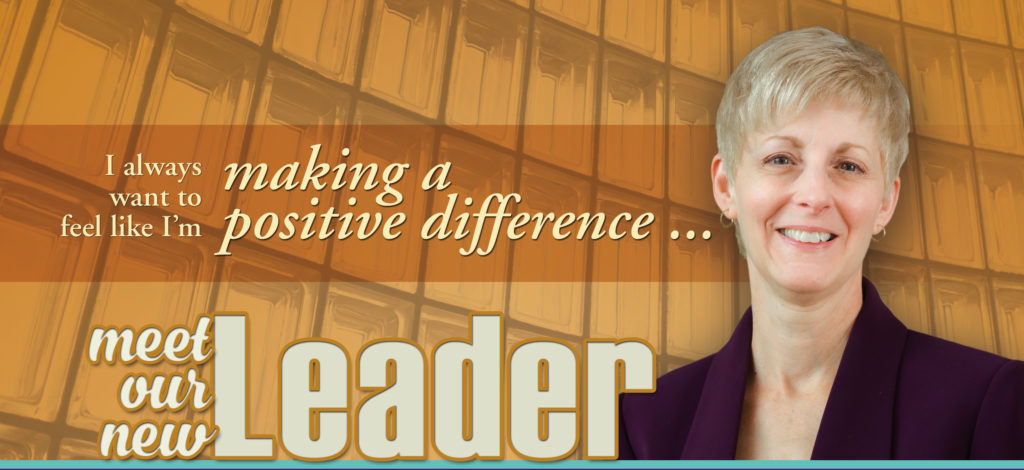 The next person to catch University President Sue Thomas with a panic-stricken look on her face will be the first. When she was thrown into an interim role last year, Thomas was, by her own admission, "a little freaked out," but she never let it show. Truman's 17th president carries herself with a combination of confidence and positivity that can be infectious, and it might be exactly what Truman needs right now.
In February, just days after learning she would be dropping the interim tag from her title, Thomas was informed of an 8 percent withholding in funding from the state for the remainder of the year, a reduction of more than $3.1 million. The forecast for the coming academic year is expected to include additional cuts, which could exceed $4 million. For a social psychologist with a research interest in grit, Thomas received an early opportunity to explore the concept firsthand.
"I'm motivated by challenges. I always want to feel like I'm making a positive difference, so challenges don't scare me," Thomas said. "We have a lot of bright, talented people on this campus, and we will figure it out."
As president, Thomas has continually sought the input of various campus constituents, and strategic planning meetings comprised of faculty, staff and students were conducted throughout the spring semester to help the University forge a path forward.
The answer to how Thomas maintains optimism in the face of adversity can be traced back to her childhood in western Pennsylvania. The oldest of three daughters, she was essentially a first-generation college student, although her father did earn a degree after attending night school for a decade.
"My parents were always very clear from the time we were little that we were going to college," she said. "That was just a given."
While she may have had the encouragement of her family to pursue her education, financial support was lacking. Thomas was a Pell-eligible student, and she put herself through school by working and taking out loans. As responsible as she is for her own success, she is quick to credit others for helping her achieve her goals.
"Partly why I got here is because, every step along the way, people saw potential in me that I didn't always see in myself," she said.
Fortunately for Truman, one person who saw potential in Thomas was the interim provost at Southern Illinois University Edwardsville. Thomas worked there for more than 20 years and assumed she would spend her entire career at SIUE. At the recommendation of her colleague, she applied for Truman's vacant executive vice president for academic affairs and provost position in 2014.
Two years after arriving on campus, Thomas was moving into the big office in McClain Hall. Upbeat and unassuming, she has stayed true to her roots, even as her campus profile has elevated. She prefers to be addressed as Sue, and no one is more humbled by the gravity of her position than she is.
"My upbringing allowed me to be very grounded, so I take nothing for granted," she said. "I'm not big on perks. I just don't have that mindset. I'm in awe of where I've ended up because I don't think anybody, including me, would have predicted I would be the president of a university."
Her humility does not mean Thomas is not up for the challenges on the horizon. While she would rather not be dealing with issues like millions of dollars in lost funding, she understands every cloud has a silver lining.
"It gives us the opportunity to look at things in different ways, clearly define who we are and where we are going," she said. "Truman really does have an opportunity to be a national leader by showing that a liberal arts and sciences education is the education for the 21st century."
Her own experience with the liberal arts has equipped Thomas to lead that endeavor. She chose to attend Allegheny College in Meadville, Pa., primarily because she was looking for a small-school experience after graduating with a high school class comprised of more than 1,100 students. She may not have selected Allegheny for the liberal arts, but the experience strongly resonated with her, and she is now in a position to be the person investing in others and assisting them to reach their potential.
"I like helping people be as successful as they can possibly be," she said. "A university must be a place where you can achieve more than you ever imagined, and you are positively transformed by your college experiences."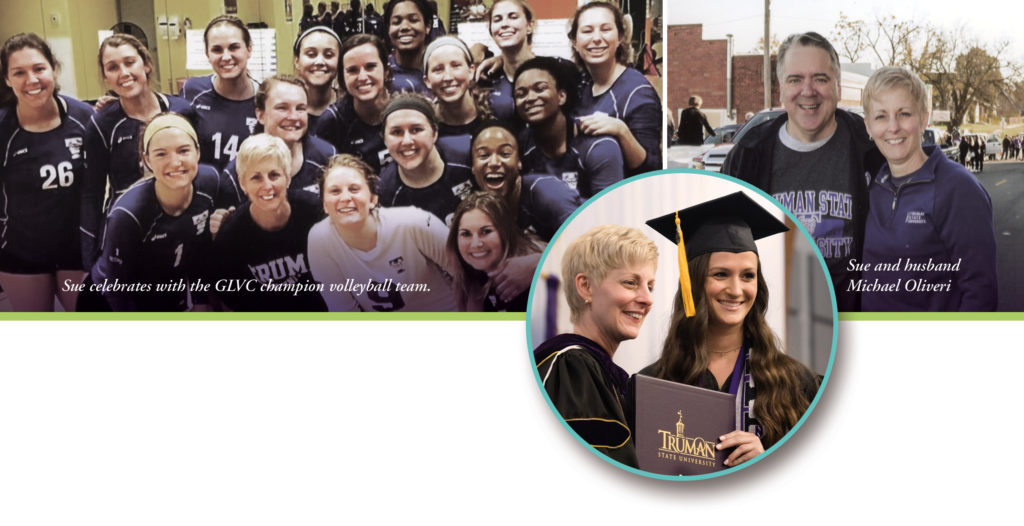 Sue Thomas … 101
Hometown
Penn Hills, Pa.
Education
Allegheny College
Bachelor of Arts: Psychology
University of Missouri-Columbia
Master of Arts: Social Psychology
Master of Business Administration
Ph.D.: Social Psychology
Sue Thomas … 102
Career Highlights
Truman State University
President, March 2017 –
Interim President, July 2016 – February 2017
Executive Vice President for Academic Affairs and Provost, 2014-16
Southern Illinois University Edwardsville
Associate Provost for Academic Planning and Program Development, 2007-14
Assistant Provost for Planning, 2005-07
Family
Michael Oliveri, Ph.D., husband
Sam, son
Annie, daughter
Save
Save