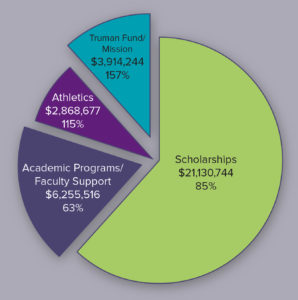 In late May, Truman hosted a "Pursue the Future" campaign celebration event in the Mid-Missouri regional market. The occasion was the sixth of 10 major events planned for the public phase of the campaign, which began July 1, 2015 and will conclude June 30, 2018.
At the time of printing, the "Pursue the Future" campaign is preparing to enter its final year of the five-year effort to secure $40 million in funds to support the mission of the University. To date, almost $34.2 million (85 percent of goal) has been generously donated/pledged by alumni, parents and friends of Truman.
"I have been so encouraged by the strong support the campaign has received at each of our regional events," campaign chair Sharron Quisenberry ('66) said. "We continue to build a base of support for the future, and our alumni networks are being greatly expanded and strengthened."
The four campaign priorities and their goal amounts are:
• Scholarships ($25 million)
• Faculty Enrichment and Academic Programs ($10 million)
• Athletics ($2.5 million)
• Truman Fund for Excellence/Mission Enhancement ($2.5 million)
On behalf of campaign and University leadership, Quisenberry extends a personal invitation to anyone who has a passion for the University to attend an event and connect with like-minded alumni and friends.
"We would love the chance to share a remarkable evening with you at one of our upcoming celebration events," she said.
Upcoming campaign events will take place in Des Moines, Iowa, St. Louis, Mo., Denver, Colo., and Kirksville.
Campaign Steering Committee
Sharron Quisenberry ('66), Chair
Pinney Allen
Cheryl Cozette
Chuck Foudree ('66)
Mike McClaskey ('85)
Linda Miller ('70)
Larry Quisenberry ('66)
Sue Thomas, University President
Charles Woods ('86)
Scott Zajac ('83)
Remaining Regional Campaign Schedule
Iowa  •  June 17, 2017
St. Louis  •  July 28, 2017
Denver  •  September 23, 2017
Northeast Missouri  •  November 4, 2017