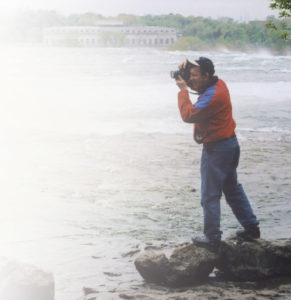 Through the loving gifts of family and friends, a new endowed scholarship was established in February 2017 through the Truman State University Foundation in honor of Mark V. Gray.
Born in St. Louis, Mo., and raised in Clarksville, Mo., Gray enrolled at the University in 1975. An avid photographer, he became a staff member for the Echo and the Index and was a member of the Catholic Newman Center. Gray earned a Bachelor of Science degree in biology in 1979 and upon graduation proceeded to the Kirksville College of Osteopathic Medicine as a research technician in the Biochemistry Department working on a National Institute of Health cancer research grant.
In 1981, Gray joined Rider Drug Camera Corner on the Kirksville square. He and his wife Ellen opened Northeast Camera and Photo Lab in 1997. In 2006, Mark helped open the Walgreens store in Kirksville as the photo lab manager and acquired his pharmacy tech certificate as well.
The Mark V. Gray Honorary Scholarship is designated to support students with financial need who are studying visual arts or biology, with preference given to students with an active interest in photography and/or graphic design. The inaugural recipient is Sarah DeWolf of Pella, Iowa. A junior pursuing degrees in English and biology, she is active with the Catholic Newman Center and is a member of the Index staff.
Gray passed away March 24, 2017 at the age of 60. The Mark V. Gray Honorary Scholarship is an open fund capable of receiving additional contributions. It is designed to be awarded annually in perpetuity in loving memory of Gray's years of devotion to his family and the community of Kirksville.