Shane Mecham is one of the most accomplished debaters in Truman's history, and he has stayed close to the forensics community throughout his career.
By his own account, Shane Mecham ('01) is a "debate nerd." He took up the activity in seventh grade and by high school was competing in national tournaments. As he was looking for a medium-sized, affordable school just far enough from his hometown of Lincoln, Nebraska, the forensics team is what sealed the deal for him to attend Truman.
"In college, I wanted to continue competing in forensics at the highest levels," he said. "When they offered me a debate scholarship, it was an easy choice."
In hindsight, Mecham owes more than just an education to his forensics experience. While he specialized in debate, he quickly added speech events. He thought he would enjoy it, in part because his future wife, Heather Helm Mecham, was one of the team leaders.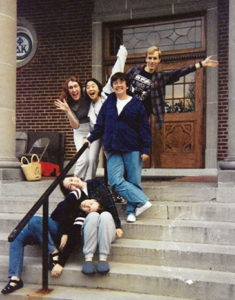 "I started competing in CEDA debate," he said. "Heather and Sandy ran speech team practices twice a week that looked like so much fun that I added speech events to my repertoire. Plus, I had a big crush on Heather."
Winning has a way of making things more enjoyable too, and during Mecham's time on campus the forensics team was particularly dominant. Despite a carousal of coaches – three for debate and four for speech – the team enjoyed success on the state and national levels. Personally, Mecham was so versatile in both speech and debate he was entered in multiple events, which led to him single-handedly causing a two-hour delay at the state tournament his freshman year. By the next season, the rules had been altered to restrict how many events one person could enter.
Mecham was an All-American his senior year and got to debate against the Irish national team. In his junior year, the team won the national parliamentary debate championship and Mecham finished 15th overall at the National Forensics Association championships. The city of Kirksville declared a "Truman State Debate Team Day" and all of the members received keys to the city.
"Those keys cannot be redeemed for free drinks anywhere in town," Mecham said. "We checked."
As if contributing to his education and his future family were not enough, Mecham also used his forensics experiences as the foundation for his legal career. He attended the University of Texas School of Law, where he was a law review editor and earned his J.D. with honors in 2004.
"Forensics teaches you to construct arguments, evaluate arguments, see both sides and think on your feet. Those skills are essential to the practice of law," he said. "Plus, litigators spend their whole careers fighting with people. That can get tiring, but debaters love the fight."
Like his forensics career, Mecham's legal expertise runs the gamut. He has worked at large-, medium- and small-sized firms gaining perspective in a variety of areas from personal cases to corporate litigation. He even served as an NFL agent for a period of time with one firm. The array of legal avenues is something he is prepared for thanks to his education, and specifically, forensics.
"I am a commercial litigator, which is a broad category," he said. "It means I handle lots of different types of cases, and that's something I learned from debate too. In parliamentary debate, the topic changed every round. One round we would be debating foreign policy in Africa, and the next round we would be debating civil rights. I am comfortable constantly learning, and then advocating, new material."
For the past 12 years, Mecham has been with Levy Craig Law Firm in Kansas City, where he currently chairs the firm's litigation group. Along with guiding associate attorneys, he gets to try his own cases, something that can be particularly rewarding.
"There is no feeling like winning a jury trial," Mecham said. "Jury trials are exhausting, both mentally and physically. Then the jury comes back and announces its verdict just like on television. To win in that moment, after all the hard work, is exhilarating."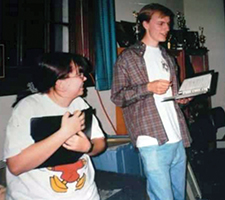 Even though Mecham is well established in his legal career, he has stayed active in speech and debate circles. He has judged debate tournaments, and now he is watching as his son competes in high school tournaments under the direction of Tyler Unsell, a former college teammate. Mecham has also been a board member and past president of DEBATE-Kansas City, an urban debate league that supports teams from underfunded schools.
"Debate is an amazing activity that uses the power of competition to teach students critical academic skills in ways that they would never learn them in a classroom," he said. "Many of the best times of my life are related to debate. I'm happy to do whatever I can to deliver that experience to a student who would not otherwise have it." 
For all his efforts, Mecham was inducted into the National Forensic Association Hall of Fame in 2016. He is the first person in the history of Truman's forensics program to achieve such an honor.