A great first impression by students led Barbara Kramer to Truman. They are also why she's stayed for more than 20 years.
It makes sense Barbara Kramer has found a home at Truman. A liberal arts institution is the perfect place for a woman of many interests. In addition to spending time with her twin 10-year-olds, she enjoys reading, crocheting, knitting and dancing. Kramer originally had plans of being a "scientist dancer," with the hope working as a researcher while being part of a dance company on the side. Considering she was in a pre-professional ballet program with the Atlanta Ballet throughout high school, the idea is not as novel as it might first sound.
Science eventually won out, with Kramer going on to earn a biochemistry degree from Oberlin College and a Ph.D. in chemistry from Emory University. Although dance may have been put on the back (Bunsen) burner for a time, she eventually found her way to it again. During the pandemic, Kramer installed a barre and dance floor in her basement and started online ballet and tap classes. That ever-present quest for knowledge is at the heart of her teaching philosophy.
"I teach because I love to learn," she said. "I like to work with students to help them discover how to solve problems and how to think critically about the material they're studying."
As a professor of chemistry, Kramer's research interests have always revolved around environmental analysis. Under her guidance, students have examined the concentration of pesticides in soil, water and fish, as well as comparisons of contaminants in urban and rural water supplies. Other projects have explored phytoremediation, where plants can be used to remove heavy metals from soil.
"All of these projects came about in the same way – a student asked a question and I helped them find a way to discover the answer," she said.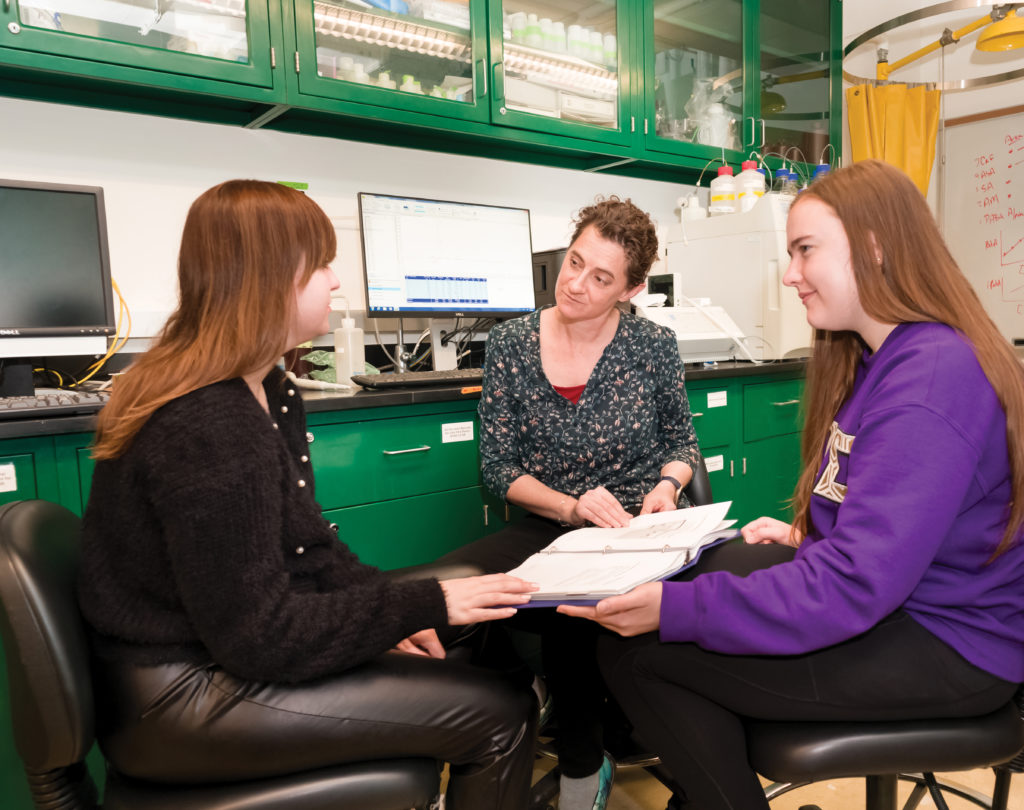 The caliber of students and their level of intellectual curiosity are contributing factors in Kramer coming to Truman, even though she never intended to move so far from her Georgia home.
"When I visited to interview, I was blown away by the students," she said. "I had been on several interviews, but this was the first place where students seemed genuinely excited talking about research and classes and felt comfortable interacting with me as a potential faculty member. Something just clicked. I've stayed for the same reason. I really enjoy working with our students and how close of a community we have."
After more than 20 years at the University, Kramer's community has grown to be quite significant. In addition to introductory and analytical chemistry courses, she also team teaches a series of interdisciplinary STEM (science, technology, engineering and mathematics) seminar courses where students learn about scientific research and plan and implement an invited speaker series.
On top of her course load, Kramer is the director of the STEM Talent Expansion Programs (STEP) Office in the School of Science and Mathematics. A campus fixture since 2005, STEP has served as the home for more than $6 million in grant funding from the National Science Foundation specifically targeted at increasing success and graduation in STEM fields for Truman students. Currently, the office supports two NSF-funded programs – STEP Scholars and MoLSAMP Scholars.
The STEP Scholars program provides up to four years of need-based scholarships for students pursuing degrees in agriculture science, biochemistry and molecular biology, biology, chemistry and physics. Along with scholarships of up to $7,500 per year, students participate in academic and professional development activities designed to introduce them to research and communication in the sciences.
MoLSAMP (Missouri Louis Stokes Alliance for Minority Participation) is a statewide partnership which aims to double the number of graduates in Missouri in STEM for students from traditionally underrepresented backgrounds. Participants at Truman are supported by a full-time dedicated academic advisor, tutoring and prioritized access to travel and research opportunities with other schools in the state. 
Ironically, the joy of working with talented students can lead to mixed emotions.
"The thing I hate and love most about my job is watching students I've connected with graduate and move on," Kramer said. "Graduation is so bittersweet. I'm so proud of them, but I know I'll miss them."
Graduation does not always signify the end of the road. Kramer remains in touch with many of her former students and enjoys watching them become successful professionals with families of their own. One of her more recent hobbies has been sitting in on Zoom Ph.D. defenses of former students.
"It blows me away to watch a student I knew when they were 18 and just starting out at college speak confidently about the work they've done as a graduate student, and I am absolutely honored to be there when they invite me to sit in," Kramer said. "I don't think students know how much it means to us when they tell us what we've meant to them."