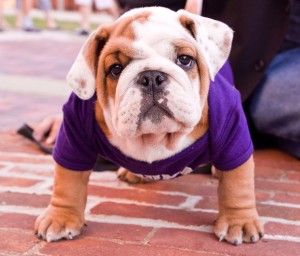 Tenacity, perseverance and dedication were the traits that first earned Truman athletics the name Bulldogs 100 years ago. While much has changed over the last century, these core qualities remain strong on campus. This spring, students celebrated the Bulldogs' centennial with a week of events leading up to Truman's National Spirit Day, April 3.
Although the term "bulldogs" was first used by coach O.C. Bell to describe the football team's tenacity in 1909, it was not until 1915 that Bulldogs became the official name. After several losing seasons — and no wins at all in 1914 — a committee was formed to see what could be done about reviving school spirit. While the students were very supportive, the committee knew they were discouraged, so it was decided that some type of emblem was needed to inspire enthusiasm.
The committee suggested the bulldog be adopted as the team mascot because of his perseverance and ability to hold on and fight until the very end. This perfectly represented not only the team's dedication, but also the loyalty of the student body. The 1914 team never gave up and neither did their fans, who always gave them a hearty send off and welcome home for every away game.
It was the baseball team that first played under the Bulldog name in the spring of 1915. To honor this tradition, Spike the Bulldog threw out the first pitch at a Truman home baseball game as part of the week of festivities.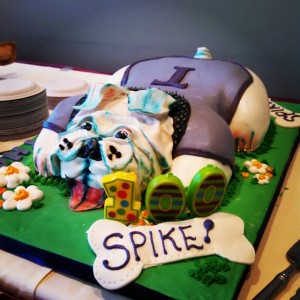 Other events in the weeklong celebration included an open mic night and murder mystery improv comedy night. Another highlight of the week was an official 100th birthday party in the Student Union Building where Spike was joined by members of more than a dozen campus organizations and received a bulldog-themed birthday cake.
More information about the Bulldog mascot can be found at library.truman.edu/archives/mascot.asp.