A proactive strengthening of Truman's student-centered approach is essential for adapting to the massive changes in higher education. 
With its long and storied history, a lot of words could be used to describe Truman. The students and alumni are often labeled as "smart." It's always easy to throw out "beautiful" to describe the grounds. "Helpful" and "caring" are commonly invoked with regard to the faculty. Perhaps an underappreciated word to describe the University is "adaptable." From its evolution as a normal school, to a regional teachers' college and now a statewide liberal arts and sciences university, Truman has always adapted to meet the needs of the students it serves.
Higher education is in the midst of a monumental change. Circumstances from the last several years have forced colleges and universities around the country to alter their plans as fewer students are opting to attend. An article published by Inside Higher Ed earlier this year reported fall 2020 saw 20.7% fewer students enroll in college directly from high school compared to 2019, and total undergraduate enrollment declined 6.6% from fall 2019 to fall 2021. While the pandemic played a roll, this was part of a decade-long enrollment decline of 13%. More than 30 states have seen at least one closure or merger of institutions since 2016, and with the number of high school graduates projected to decrease from 2027 to 2037, more change is in store. Fortunately for Truman, years of proper planning have the school on remarkable financial footing, and the foresight of administrators and faculty members in regard to curriculum means the University is ready to meet the challenges ahead.
"Enrollment challenges are real, but they will not be solved solely by amplifying recruitment efforts," said University President Sue Thomas. "An enhanced focus on retention, completion, student success and strengthening our value proposition are essential to increase our appeal to tomorrow's students. Truman is currently implementing a number of new initiatives in these areas to bolster our appeal."
Don't Break the Bank
Among the top-of-mind factors for many students and families when making their college choice is price. Like other industries, fixed costs in higher education have increased faster than most family incomes, pushing the price of a degree higher and higher and causing decisions to be all the more strategic. Truman has long been known for its affordability, a characteristic that will continue to bode well in the coming years.
"Truman has a history of wanting to empower students by helping them get their education without taking on tremendous debt. That's important now more than ever," said Marla Fernandez, director of financial aid. "There are multiple avenues that can be taken to minimize educational expenses, and we take pride in helping our students take advantage of every possible opportunity."
In addition to attractive financial aid packages, eligible students can earn generous scholarships through the Truman State University Foundation. The Financial Aid Office also assists students in finding and applying for private scholarships and fellowships, as well as specific opportunities through the Missouri Scholarship & Loan Foundation. Even prospective students are eligible to seek the office's services before they have formally committed to Truman. The University estimates as many as 97% of students earn scholarships, a key factor in why half graduate with no student loan debt.
Quality Counts
Lots of schools try to maintain reasonable tuition, and Truman has been very successful in that regard. It's a key factor in why the University has fared well in numerous national rankings and is often cited for its affordability. More importantly, what makes Truman unique is the caliber of education in relation to the cost. The graduation rate remains the best in the state, and Truman students perform well on certification exams, graduate and professional school placement rates, and in the percentage of students who are employed after they earn their degree. By any measurable standard, graduates leave well prepared for wherever their careers may take them. Continuing to attract and retain students in the coming years is contingent on Truman providing the education students will need to fill the jobs of the future.
To that end, Truman has added 18 new programs in the last five years, with more offerings still in development. Nearly half of the new programs are in graduate education, including master's degree offerings in mental health counseling, school counseling, and data science and analytic storytelling. New bachelor-level programs include applied linguistics, and biochemistry and molecular biology. Many of the programs build off of existing Truman courses and have been developed to expand to new pools of prospective students while not requiring significant additional investments on the part of the University.   
"We have tried to be very strategic and data driven in how we create additional program options for students," said Kevin Minch, associate provost. "We use economic data to look down the road and see what the job market needs from graduates and then evaluate how we can meet the needs of students with the resources we already have available."
Embracing the new does not mean abandoning the old. The University remains true to its liberal arts core, with students receiving a distinctive blend of broad foundational perspectives and highly specialized academic programming. Truman has added programs that allow students to be successful after graduation, and their experience is enhanced because it is built upon a liberal arts and sciences foundation.
"All of these new programs have been created with the needs of students in mind, including what support students might need in a particular field to be most successful," Minch said. "Helping them complete their degree and find employment in a rewarding job has always been the goal."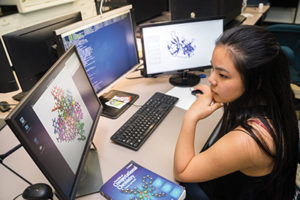 What's in it for Me?
Spend any amount of time with a prospective college student and their level of pragmatism might be surprising. Gone are the days of picking a school simply based on family legacies or name recognition. Discerning students of today are less concerned about a school's reputation for parties and more interested about what they can get out of their time on campus. Internships, research opportunities, career readiness and transformative experiences carry more weight.
"Students want college to be an experience – collectively, one that entails much more than what they did in high school," said Tyana Lange, vice president of student engagement, enrollment and marketing. "They want to engage in one or more transformational experiences that match their interests and help them meet their goals. Our job is to help students see that these experiences are fun, important to learning and a significant investment in their future."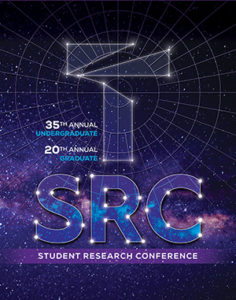 A perfect example of Truman encouraging resume-building experiences is the Student Research Conference. Hailed for its innovative approach to showcasing student work, this year marked the 35th anniversary of the undergraduate version of the conference and the 20th year graduate student work was included. Nearly a third of all Truman students participate in research during their time on campus.
One recently implemented program is not only giving Truman students an opportunity to develop leadership skills, it is simultaneously cultivating prospective students who may not otherwise have considered attending the University. TRU Leaders Next-Gen builds on the University's established TRU Leaders program. Currently enrolled students serve as mentors to Kirksville High School students identified by the district as having great potential who would be the first in their families to attend college or who come from underserved populations.
"This accomplishes two distinct goals," said Rashmi Prasad, dean of the School of Business and creator of the program. "Our students develop leadership skills that will serve them throughout their careers, and the mentored students are able to assess, learn and practice time and stress management, as well as their communication skills. Students also participate in high-impact experiences that broaden their thinking about future career opportunities. That will better prepare them for college, and hopefully many of them will choose to attend Truman when the time comes."
One of the most transformative experiences possible is studying abroad, and this summer Truman resumed the practice for the first time since the pandemic began. The Center for International Education Abroad is a campus resource that helps students navigate the wide variety of academic opportunities available to explore the world. Truman also offers some scholarship packages that include a stipend specifically for study abroad.
In terms of preparation services, the Career Center is another valuable resource for students. It provides help with choosing a major, exploring career paths, finding internships, prepping for interviews, graduate school research and securing a job. In recent years its Career and Graduate School Expo has expanded from a single-day event to a weeklong affair taking place in both the fall and spring semesters.
The Career Center boasts a state-of-the-art career data management system, #HireTruman, that allows students to search and apply for vetted jobs, as well as create their own profile complete with resume and portfolios for documents. Students can elect to allow employers to view their profile and the employer can reach out directly. The #HireTruman platform is also used to facilitate virtual meetings between employers and students, and the Career Center provides virtual drop-in services available to all students and alumni.
"These drop-in services are popular with individuals who cannot come to our office, such as alumni who do not live in Kirksville, students who commute to school or those who feel more comfortable meeting virtually for whatever reason," said David Lusk, associate vice president for career development.
For anyone on campus that needs access to proper resources while conducting their job search, the center recently created two new virtual interviewing suites, complete with technology and lighting appropriate for professional interviews.
"We know that students have appreciated these suites as they have referred their friends to reserve such services," Lusk said. "Students will often talk about not having a place to do virtual interviews that is free of distraction, so many have chosen to reserve our interview rooms."
Help Make it Happen
One significant sign of the University wholly investing in student support is its ambitious plan to renovate the Kirk Building (page 2). With financial assistance from the state of Missouri, Truman will revitalize one of the campus' oldest buildings into a new Student Success Center. Comprised of the Career Center, Tutoring Services, the Student Health Center, Counseling Services, Student Access and Disability Services, the Center for Academic Excellence, the Communication Lab and the Writing Center, the new facility will be a centralized location for many of the services students need throughout their time on campus.
"Having all of these resources under one roof will not only be convenient for students, it will allow the University to amplify the amount of support we can provide, bolstering student retention efforts," said Jonathan Vieker, director of retention and student success. "By using a collaborative service model, departments will be able to coordinate with one another more effectively to best meet the needs of the student."
Support can come in many forms, and sometimes it originates with students. The more than 230 organizations on campus provide outlets for students to be themselves and connect with others with similar interests, whether it be through Greek Life, service organizations, affinity clubs or identity-based groups. Recently, the University allotted space for the creation an LGBTQ+ Resource Center and will be sponsoring an esports team for the first time in the fall (page 7).
"These are ideas driven by student interests. They are important to them, so it's important for the University to understand that and be supportive if we want to continue to attract new students," Lange said. "Prospective students need to be able to see themselves at Truman, and being open to the types of services and experiences they want enables us to make it a reality for them."
The Future is Bright
For those schools willing and able to adapt, the future is bright. Truman is poised to rise as the higher education landscape evolves. Liberal arts cornerstones like critical thinking and problem-solving skills become more valuable every year. Learning simply for the sake of knowledge does not have to be put to the side in the name of career readiness. Those two pillars can and should coexist, and schools like Truman are adept at fostering both. Only good things come from knowledge and enlightenment. As Truman continues to empower students to reach their full potential, society at the local, state, national and even global levels will continue to reap the benefits.