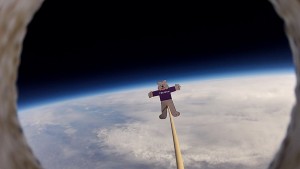 On March 14, Flat Spike boarded HAB_0, a helium filled high-altitude balloon built by alumni Dustin Mayfield-Jones ('09), Huan Truong ('11) and Truman professor Donald Bindner ('92). Launched from a baseball diamond in Damiansville, Ill., at a little after 11 a.m. HAB_0 lifted off and began the climb into a region of the atmosphere known as near space. Over the course of its two-and-a-half-hour flight, HAB_0 reached heights of more than 100,000 feet while collecting information about temperature, wind layers and oxidizing gas. The views were an added bonus.
The crew hopes to use this first launch as a test drive to gain skills for future projects. They also want to collaborate with schools for future launches to build an interest in science and encourage the study of atmospheric science, software development and electrical engineering.
Watch video from Flat Spike's adventure into near space at youtube.com/watch?v=LzWCjUgFxSw. To get a Flat Spike, visit truman.edu/alumni-donors/alumni-resources/flat-spike or contact the Alumni Relations Office at (800) 452-6678. Find more of Flat Spike's adventures on his Facebook page at facebook.com/TrumanFlatSpike.