Since his debut in 2014, Flat Spike has been just about everywhere. He's been to Cinderella's castle in Walt Disney World, put his paws in the sand at Montego Bay and even sang with the Mark Twain Chorale International in Ireland. All of us at Truman cannot wait to see where this adventurous pup ends up next. Interested in taking Flat Spike along on your travels?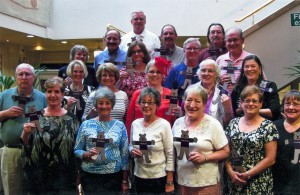 Here's how it works:
1. Cut out Flat Spike and color/design him any way you like. You can also contact the Office of Advancement at bulldogforever2@truman.edu for an official Flat Spike.
2. Take Flat Spike somewhere cool. Show him somewhere awesome in the places you live. Take him on a family trip. Wherever you want to go, this loyal bulldog is sure to follow.
3. Take a picture and email it to bulldogforever2@truman.edu, tweet it to @TrumanAlumni, use the hashtag #SpikeSelfie, or mail it to the Office of Advancement, 100 E. Normal Ave., Kirksville, MO 63501. Be sure to include your name and where Flat Spike is.
Now you can show off your Truman spirit wherever you go. All of Flat Spike's adventures can be found on his Facebook page, fb.com/TrumanFlatSpike.