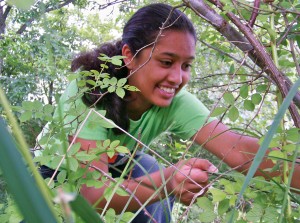 Although Truman was founded as a school for teachers and has grown into a nationally recognized university, it does not cater exclusively to undergraduate and graduate students. Truman's Institute for Academic Outreach (IAO) oversees a variety of programming for a wide range of audiences.
Perhaps the best-known IAO program is the Joseph Baldwin Academy for Eminent Young Scholars. Commonly referred to as JBA, it provides highly talented middle school students the opportunity to spend three weeks on campus in the summer where they can get a head start on their future college careers. The students live in the residence halls and take classes with Truman faculty members.
"For many high-ability young people, school isn't always challenging enough, and sometimes it feels less-than-cool to be smart," said Kevin Minch, associate vice president for academic affairs and Institute director. "We try to create an environment at JBA where students not only learn it's OK to be smart, but that attending college is something they eagerly look forward to."
Typical summers see roughly 400 seventh, eighth and ninth grade students participating in JBA. To be admitted to the program, all students must be nominated by a school principal or guidance counselor and they must meet exceptional academic criteria.
Created by the University in 1985 to provide the benefits of a liberal arts education to students beyond its own undergraduates, JBA has also become a successful recruiting tool. Hundreds of former JBA students have gone on to make Truman their college choice.
In recent years, the IAO has added additional summer programming for younger students. The Summer Talent Academy for Professions in Health (STAPH) is a one-week, intensive residential program aimed at students who have just completed 10th or 11th grade and are interested in becoming doctors, nurses, therapists, technicians or entering any other health profession. In addition to Truman faculty, STAPH is conducted in partnership with doctors and clinical faculty from A.T. Still University.
Capitalizing on recent popular culture trends, the IAO created the Zombie Scholars Academy. The program, which debuted in 2013, focuses on developing critical thinking, leadership and disaster preparedness skills and was inspired by zombie initiatives by the Centers for Disease Control and other public health groups.
"With 30 years of experience learning about what gets young people excited about scholarship, we've reaffirmed the notion that learning is more effective when its hands-on and fun," Minch said. "Popular culture–and zombies in particular–gives us access to so many fascinating topics in the arts and sciences. The kids love it!"
IAO programming reaches other demographics besides middle and high school students, and participants do not always have to venture to Kirksville to reap the benefits. Working adults can take advantage of professional development courses and online graduate certificate programs. There are also a host of online courses, test preparation services and options for non-degree seeking students.
"We are growing our programming every day. We really want to help people embrace the idea of learning as a life-long experience," Minch said.
More detailed information about programming available through the IAO can be found online at institute.truman.edu or by calling (660) 785-5384.