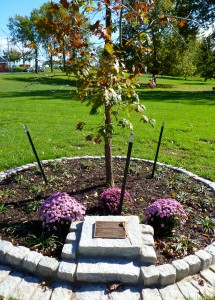 On the date of her first birthday since her passing, friends and family came together on campus to honor the life and contributions of Dr. Teresa Heckert with the dedication of a memorial tree.
A member of the Truman community for 20 years, Heckert was the professor and chair of the Department of Psychology when she passed away in February 2014. On Sept. 12, 2014, a white oak tree was dedicated in her honor in Red Barn Park. The idea of a memorial tree originated with Heckert's family, and a white oak was selected due to its ties to her home state of Maryland. As part of the family's gift to the University, granite from Maryland was also brought in to help mark the area.
In October, during Breast Cancer Awareness Week, Alpha Sigma Gamma service sorority used the site to host a vigil in honor of Heckert and other loved ones affected by breast cancer.