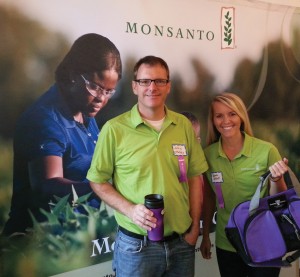 During the Fall Career and Grad School Expo in October, more than 175 representatives of various businesses, schools and organizations were on campus to recruit Truman students. More than 700 students, representing 32 of 35 majors, participated in the event. The following day several recruiters remained on campus and conducted 166 student interviews for internships or jobs with their organizations.
Career Week is planned and coordinated each semester by the Truman Career Center. The entire week is filled with career development opportunities. In the fall, events included mock interviews, an etiquette dinner, company presentations and a volunteer fair showcasing local agency opportunities. Delta Sigma Pi and Alpha Kappa Psi co-sponsored a LinkedIn consultant who offered advice for building a strong online presence on the professional networking site. Student participation in all of the activities was exceptional.
Returning alumni represented a number of the organizations that were on campus for the Career and Grad School Expo. Alumni are always welcome to join. Spring Career Week will take place Feb. 23-26, with the Career and Grad School Expo set for Feb. 25. For questions about the event, or about recruiting Truman students, contact Polly Matteson, assistant director of the Career Center at pollym@truman.edu.