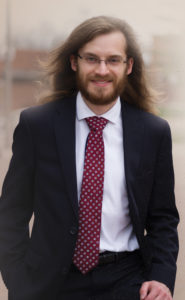 Catching the elevator door right as it closes, the young entrepreneur receives his chance. There are 100 stories before the investor reaches the office. Three minutes, that is what he has, and that is all he needs. Three minutes to take his idea, summarize it and leave a lasting impression.
For Smithville, Mo., native William Fries, this scenario is all too familiar. Maybe not the high-rise building and the elevator shooting up 100 stories, but the pressure of an opportunity to pitch his idea to an investor. As a three-time Bulldog B.I.T.E. finalist, Fries has looked not one but seven investors in the eye and pitched his idea in hopes of a good return.
Bulldog B.I.T.E., which stands for Business Innovation by Truman Entrepreneurs, is a competition in which University students pitch their ideas to investors with the chance to win prize money. Not only has Fries been a finalist all three years, he also won the event in his first two attempts.
Fries is equal parts entrepreneur and crusader. Seeing that priceless information is often stored on everyday electronic devices, he began to develop ideas to protect their security.
"Everywhere people have problems that they don't know how to solve," Fries said. "I hear about these issues and internalize them, just letting them sit. Eventually, the right conditions will occur and a solution comes to mind."
The need to protect information developed into his first pitch, a general-purpose hardware security device that would protect passwords, files and other sensitive media. If the user's computer were to be compromised, their credentials would be safe.
An interest in photography inspired Fries' second pitch, an SD card that encrypts photos on the fly and protects photojournalists traveling with their work. The card would allow journalists to hide photos on their devices from detection.
"Photojournalists are not always well received in the locations they travel to," Fries said. "Frequently, photojournalists are compelled by local forces to destroy or forfeit their photographs, sometimes putting themselves and their sources in danger."
Along similar lines, the inspiration for Fries' third pitch derived from unwarranted phone searches. When returning from travel abroad, U.S. citizens can be asked for security passwords to their devices for search without a warrant. Fries' pitch was a card that would allow the user to secure their device with a password known only by reading a specific card that would be locked in a secure safe or left with someone in the U.S. The only way to unlock the phone would be to retrieve the card, and when back in the U.S., the citizen could request a warrant.
Bulldog B.I.T.E. is not Fries' only brush with success. This year he became the first Truman student to participate in the Reynolds Journalism Institute Student Competition and was the lone bulldog on a team filled with Mizzou students. Their idea, VeriPixel, which is used to verify photos and identify fake news, won first place and earned them an all-expense-paid trip to New York City to meet with industry leaders and investors.
With plenty of ideas ready to be explored, Fries' only barrier is time.
"There is always something — always problems to solve, whether my own or someone else's," Fries said. "I have a long list of ideas. I'm just waiting for time."
After graduation next spring, Fries might finally have the time he seeks, and he will have no shortage of things to do with it. His interests include photography, cryptography, art and film making. As a double major in both computer science and business administration management, he is unsure of where his future career will take him, but he knows he wants to pursue something interdisciplinary in nature. He is pleased with the support he finds through the University faculty and resources while he plans his next move.
"Events such as Bulldog B.I.T.E. spur thought and discussion," he said. "Professors are always willing to listen and assist, even if not related to coursework. I think I've learned just as much with professors outside of class as I have in class."