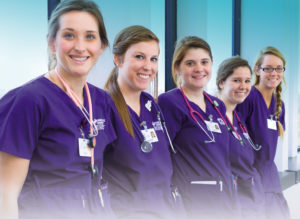 The health care industry is the Kevin Bacon of the modern economy. Just as the award-winning actor is seemingly connected to every other Hollywood celebrity in one way or another through his extensive body of work, so too does the ever-growing reach of health care touch upon other industries and professions.
Beyond medical doctors and nurses, it includes physical therapists, dentists, chiropractors, in-home care specialists, speech therapists, psychologists, counselors and pharmacists, among many others. Factor in related positions such as hospital administrators, medical transcriptionists, technicians, nutritionists, insurance providers and support staff in occupations too numerous to mention, and it becomes apparent the health care industry is so large it is almost impossible to quantify. Eventually, most Americans will be involved with it in some way, shape or form – either as a provider or consumer, often in both roles.
The Bureau of Labor Statistics projects a growth rate of 19 percent in health care occupations between 2014 and 2024. Health care and social assistance is expected to become the largest employing sector during that time, surpassing the state and local government sector and the professional and business services sector. An estimated 3.8 million jobs will be added to the health care and social assistance sector before the aforementioned 10-year span ends. An industry growing that rapidly demands a lot from its labor force, which is why a liberal arts education can be beneficial to graduates entering the field.
Truman is well-equipped to train those individuals seeking to help fill the health care needs of the nation. Traditional undergraduate programs such as biology, exercise science, communication disorders, psychology and nursing remain staples of the University, and of the nine graduate programs currently offered, four – biology, athletic training, counseling and communication disorders – are directly related to health care.
Considering the massive scope of the field, many areas of study listed at truman.edu/majors-programs could ultimately translate to an occupation in health care. Additionally, the University extends a myriad of minors which can enhance any degree and create new ways to service the ever-changing industry. An accounting student who picks up an actuarial science minor is a valuable asset for employers in the vocation of medical research or insurance. Art majors with experience in child or disabilities studies have the potential to be an integral part of a patient's therapeutic treatment. The versatility of the liberal arts, combined with complexity of patient needs, equates to almost limitless opportunities.
"Health care professions require more intellectual preparation and sophistication than simply building a set of technical skills for applying the trade of doing medicine," said Stephen Hudman, associate professor and chair of biology. "We value critical thinking and problem solving as central components of the educational experiences we offer."
Programs related to health care are some of the most popular at Truman. By some calculations, nearly 40 percent of Truman students pursue a degree in a discipline commonly associated with health care. During a typical Career and Grad School Expo, hosted on campus by the University Career Center, roughly 25 percent of the visiting employers are related to the field in some capacity.
Every year the National Association of Colleges and Employers surveys its employer members and asks what skills they look for in new hires. According to Brandi Wriedt, Truman's career technology and operations manager, the top seven skills – problem solving, teamwork, written communication, leadership, work ethic, analytical/quantitative skills and verbal communication – are all embedded into Truman's curriculum.
"The great thing about a liberal arts university is the ability to refine and develop the skills employers are seeking," Wriedt said.
One reason so many students choose Truman for their education is the consideration they receive from their instructors. The University proudly touts its student-to-faculty ratio, as well it should. Usually in the neighborhood of 16:1, that student-friendly proportionality is helpful in any degree program. For the healing arts, it is vital. More attention for students often translates to better prepared practitioners. When health care services reach the stage of life and death decisions, the level of expertise on the part of the provider can never be too high.
"I recently spoke with a recruiter for a hospital in Missouri who remarked about how well-prepared our graduates are," said Brenda Wheeler, associate professor and chair of nursing. "She went on to tell of an instance where a recent graduate, because that graduate's ability to reason and problem solve, was instrumental in saving the life of a patient."
In addition to faculty guidance, Truman has a variety of on-campus support for future health care providers. Among the more than 240 student organizations offered, no fewer than 20 are directly or indirectly related to health and wellness. Along the same lines, 10 pre-professional interest paths in fields such as optometry, occupational therapy and medical technology can be found at truman.edu/majors-programs.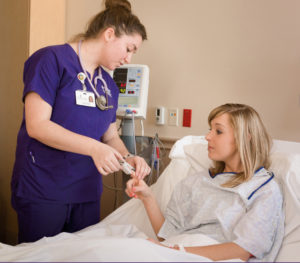 A key component in preparing the medical leaders of tomorrow is having the proper facilities to do so. In spite of ever-looming budgetary constraints, Truman has aggressively sought out ways to offer a cutting-edge education with access to the industry's most recent tools and techniques. Visible evidence of this movement can be seen in the form of the Health Sciences Building, completed in 2011. Connected to the Pershing Building, the structure is home to athletic training, nursing, communication disorders, health science and exercise science. Among its amenities are the Nursing Simulation Center and the Speech and Hearing Clinic.
The 10-bed NSC simulates the look and feel of a hospital and is designed to create an environment where nursing majors can practice their skills as they progress through the curriculum.
Similarly, the Speech and Hearing Clinic offers communication disorders students an environment in which to hone their skills, but it goes a step further by affording the opportunity to work with actual patients. Student clinicians, under the direct supervision of faculty members, provide speech, language, and hearing screening, assessment and treatment services through the clinic. Since 1960, the Speech and Hearing Clinic has functioned with the dual purpose of preparing students and administering services to members of the community. More than 1,000 people a year, both children and adults, receive treatment from the clinic.
Practical, hands-on experience is a central theme among the health care related fields of study at Truman. Many programs either require or strongly encourage off-campus internships as part of the curriculum.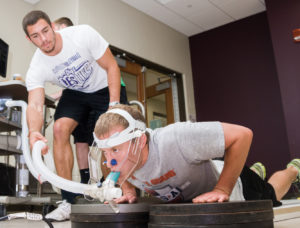 Just like with nursing and communication disorders, career enhancement opportunities abound in other programs. Athletic training students maintain and staff the University athletic training room in the Health Sciences Building and the "kennels." The athletic training facilities have group rehabilitation areas, taping areas, wet room areas and modality treatment areas, as well as an extensive collection of diagnostic and rehabilitation materials used by student athletic trainers to prepare for professional degrees. Off-site facilities, including local high school and clinic settings, are used for practicum hours.
Truman-sponsored care has no boundaries. Most internships take place in conjunction with off-site partners, and on certain occasions study abroad expeditions are conducted as outreach initiatives. Communication disorders students have visited the likes of Mexico to provide services, and for more than 20 years, nursing students have taken an annual trip to the Philippines for a three-week cultural immersion experience. Whether it is Kirksville or Puerto Vallarta, these types of practical experiences all share common traits: they provide immediate assistance to those who need it, and they are valuable building blocks for future health care professionals.
Any assessment of Truman's health care related offerings would be remiss without mentioning its crosstown educational partner, A.T. Still University. Sharing a home with the nation's first osteopathic medical school has afforded Truman faculty and students opportunities not found in other institutions and communities similar in size. For example, Truman students participating in human anatomy classes are able to utilize ATSU's cadaver lab. By comparison, less than five percent of undergraduate programs in the nation offer human cadaver-based anatomy.
Since ATSU's founding 125 years ago, it is probably impossible to calculate the number of times the two schools have collaborated, and that spirit of comradery is alive and well today. In January 2014, administrators from both institutions entered into an agreement to streamline the transition from college to medical school. The Pre-Med/Med Accelerated Track program, also known as the "3+4" program, allows incoming freshmen the option to enter medical school after three years of attending Truman. This encourages students to focus on developing strong academic and leadership skills during their undergraduate experience without the traditional MCAT requirement.
Even for students with no plans to enter medical school, having a partner in ATSU provides a wealth of opportunities. Since 2002, the schools have collaborated on the House Calls program, wherein Truman students work with faculty and staff from ATSU to visit elderly volunteer patients within the community. The interdisciplinary effort involves three- to four-person teams, with students coming from fields such as nursing, health science and communication disorders. They provide clients with a physical assessment, health education, home safety information and a social interaction. In addition to the obvious immediate care, the program allows participating students to advance their communication skills while working with other professionals.
Similarly, the two schools often come together for stand-alone inter-professional education experiences, with Truman students working alongside first- and second-year medical students.
In 2013, ATSU established its sixth school, the Missouri School of Dentistry and Oral Health. As that university continues to grow, so too will the number of collaborative opportunities with Truman, and the relationship between both institutions should become even stronger.
Truman is celebrating its sesquicentennial anniversary this year. The school has been called a lot of things in its first century and a half, but "complacent" is not one of them. Many of its most popular fields of study were only added in the last third of its existence, a testament to how well the University responds to the needs of the nation and the interests of its students. In recent years, a Master of Athletic Training has been added to the stable of graduate programs, and an online master's program in mental health and school counseling is in the preliminary stage.
For generations, leadership at Truman has sought to be proactive when it comes to student readiness. Preparing graduates suited to meet the needs of the communities they will one day serve is dependent on recognizing what those needs will be. To that end, the University still has hopes of creating the state's first autism clinic north of I-70 with the Greenwood Center project.
Announced in 2015, the project would repurpose the former Greenwood Elementary School into an inter-professional building serving those with autism and other neurodevelopmental disorders. The ultimate goal is to staff this comprehensive health services center with licensed professionals, and provide high-impact educational experiences for graduate and undergraduate students enrolled in health care related academic programs.
Repurposing the school would fill a public need, provide valuable experiences for students and bring new life to a treasured historical building. The University originally purchased Greenwood, located near the northeast side of campus on Halliburton Street, in 1999. It has primarily been used as a storage facility since that time. In August 2016, an architectural service firm was hired to assess the building. Although state financial support for the Greenwood Center is uncertain, the project remains a focus for the University.
Like the fate of the Greenwood Center, the future of health care can be difficult to predict. Advancements in medical technology rarely result in finality, only a moving of the goalposts and the creation of a new set of questions waiting to be answered. Whatever direction the industry takes, Truman will be there, training the problem solvers of tomorrow who will be ready to expand the limits of possibilities.