Junior biology major Jamie David uses that principle to stay involved on campus and guide her future plans.

With her long brown hair, Jamie David might not look like Goldilocks, but that is exactly who she felt like when she arrived on campus. Originally in search of school that was both not too big and not too small, Truman caught her attention. After attending a showcase visit event during her junior year of high school, she left impressed.
"I was truly awestruck of how 'at home' I felt in a place I had never been before," David said.
Now in her third year, the St. Louis native has grown to be even more comfortable with her choice of school. She enjoys her classes, and refers to the academic buildings and the library as "the places where all the magic happens." On a nice day, David might be found on the quad studying for one of the classes in her biology major, or just sitting with a friend in a hammock.
"When I first came to Truman, I knew the campus was the perfect size," she said. "Then I realized it was comprised of a perfect community that is able to support me in ways I didn't even know I needed."
Unlike the storybook Goldilocks, David gives back more than she takes. One of her mottos is "do what you love," and that guiding philosophy motivates her to be active on campus. Among her commitments, she is an executive member of the Student Activities Board and Alpha Sigma Alpha sorority.
"Both are organizations that have helped me grow in ways I never thought were possible, though I am so grateful they did," she said. "I love to be involved in these organizations because they are filled with people I love and care about, and I am so honored to help these organizations run as smoothly as possible."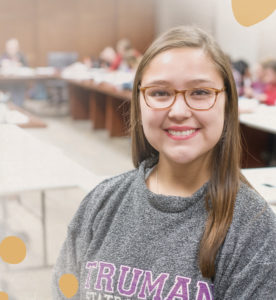 David also served on the Homecoming committee, is a student ambassador and has a passion for the Special Olympics. Because of the support see feels from her fellow students, faculty, staff and the city of Kirksville, she is compelled to reciprocate.
"I just try to give back to the community that gives back to me," she said.
Her selfless mentality will serve David well in the future. After graduation, she plans on returning to St. Louis to spend a year working in a rehabilitation center before applying to physician assistant schools. The broad nature of the field appeals to her, and she hopes to make herself useful in any way possible. David is pursuing a minor in Spanish for the medical professions, even though she never studied the language before college.
"After taking Introduction to Public Health and Communication, I learned about the exponentially growing Hispanic population in the United States," she said. "I was motivated to learn Spanish so I would be able to speak to the large growing population in our country."
While David is particularly organized, her ability to maintain perspective and keep a positive attitude will ultimately make her successful wherever her career may take her.
"If at the end of the day I can say I tried my best to help someone in need, I will be happy, because I understand in the medical field every day is not going to be like 'Grey's Anatomy,'" she said.