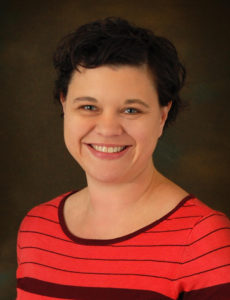 The updates are a more regular occurrence now. Often it is an invitation to a high school or college graduation. One young man stopped by upon receiving his driver's license. Another made a documentary film about his life. After more than a decade in the field, the children Kate (Fletcher) Reynolds once knew as patients are becoming adults in their own rights. Like satellites sent into deep space, they are now doing what they were meant to do after years of hard work and planning.
"Our main objective is to help children become as functional and productive members of society as possible," Reynolds said. "We want them to become members of their communities and show that regardless of the barriers in their lives there is so much they can contribute."
As manager of the ChildServe outpatient clinic in Ames, Iowa, Reynolds has worked with countless children since she was hired for a part-time therapist position in 2005. ChildServe is a non-profit organization that partners with families of children with special health care needs. It is a job she clearly loves, and one she never saw coming.
Following her exercise science degree from Truman, Reynolds ('02) returned to her hometown to earn a doctorate of physical therapy from Des Moines University. She had hopes of working in outpatient orthopedic sports, but a 10-week rotation at the ChildServe facility in Johnston, Iowa, changed her plans. 
"I realized pediatrics was where I wanted to be. It's hard to beat a job where you are expected to come in, play and be silly," she said. "And there is nothing more rewarding than watching a child progress through milestones – to be able to share in those joys with the family."
Fate seemed to be pushing Reynolds in that direction. Personal ties had her searching for a job in Ames, and ChildServe was seeking to bolster offerings at its extension center in the area as well. Reynolds was brought on to build a full-time case load, and by 2009 she was splitting her time as a therapist and team leader. The following year she was named manager of the facility, and while see rarely sees patients one-on-one anymore, she understands the value of an administrative role.
"As much as I love seeing children progress and succeed, I also really love assisting new therapists join the team and continue to expand and improve upon the services we offer," she said. "It allows me to help assist more families than I ever could as a staff physical therapist."
Reynolds has her work cut out for her. Demand for clinics that specialize in treating children is high, and families often have to travel great distances because there are no other options closer to home. To fill those needs, ChildServe has been continually growing. The organization specializes in speech, occupational and physical therapy services, but has begun to offer mental health and psychological therapies along with many specialty clinics. Reynolds and her team are also developing a feeding clinic at the Ames location and exploring the possibly of expanding ChildServe's concussion services to their site.
Continued growth is Reynolds' focus now, both in the programs ChildServe offers and in the pediatric therapists who provide them. She enjoys the health care providers she works with, and is happy to have ended up in pediatrics, even if it was not originally part of the plan.
"I never thought I would pursue something in a management or business realm, but I'm having a lot of fun in this role," she said.