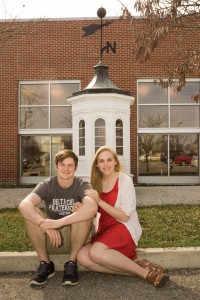 Traditions are some of the first things that come to mind when remembering time on campus. Whether it is sharing a kiss in the Sunken Garden, making a contribution to the Gum Tree or jangling keys at a football game, there are certain things that are uniquely related to the University. In recent years, a longtime campus icon has become part of a new tradition.
For decades, the cupola atop Kirk Memorial has been a symbol of the University. Generations of students have come and gone, and even the name of the school changed multiple times, but the cupola always remained. When Kirk Memorial underwent improvements in the summer of 2013, it was discovered that some of the wood in the cupola had rotted and the structure needed to be replaced. A new cupola, which was created to look like the original, was constructed primarily of aluminum, and includes insulation and roofing material to protect the building.
Although it has moved, the original cupola still has a home on campus. After being taken down, it was repaired and placed outside the
Ruth W. Towne Museum and Visitors Center where it has found new purpose as a photo destination. Students, alumni and friends of the University can take their pictures alongside the once inaccessible landmark. In recent years, graduating seniors have been encouraged to get photos at the cupola in their caps and gowns before leaving. Since the cupola is now close to the Homecoming parade route, alumni can easily stop by to get a quick picture. For those with multiple ties to the University, the cupola makes an excellent backdrop for family portraits. Even prospective students can start partaking in Truman tradition by snapping a selfie with the cupola during their campus visits.
Cupola photos can be taken anytime, and shutterbugs are encouraged to share their pictures on the Truman and alumni social media accounts with #BulldogForever.
For other campus traditions, visit truman.edu/about/facts-about-truman/traditions.