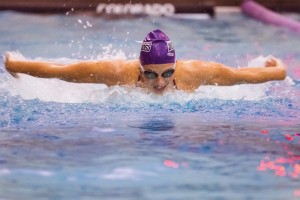 Three individual selections for the 2015 NCAA Division II swimming and diving championships highlighted head coach Ed Pretre's 2014-15 team season, as the Bulldogs posted fast times in the Pershing Natatorium this winter.
Senior Abby Hempen capped her career with her second championships appearance, while sophomore Evyn Spencer and freshman Will Shanel each picked up All-American honors this year at the championships event in Indianapolis. Shanel finished fifth in the nation in the 400 individual medley with a time of 3:51.16, while Spencer picked up a 12th-place finish in the women's 100 butterfly with a mark of 55.85 seconds.
The regular season saw the programs compete well at the GLVC championships, where the Truman women took second place, while the Bulldog men garnered sixth place overall. The women's team also toppled a pair of Division I programs in Pershing, including St. Louis University by a 156-106 score on Senior Day.
Pretre's squad returns to the water with the annual Purple/White Intrasquad and Alumni meets in the middle of September 2016.