Between intellectually demanding classes and sleepless nights of studying, many students tend to forget that education is defined by more than academic experiences. Yet, for senior nursing major Kelsey Dreiling, her Truman career is also fundamentally connected to her passion for service across the world.
Dreiling has had the opportunity to participate in service-based spring break trips, volunteer through Christian summer camps, and work as a nurse in the Philippines and Africa. While her involvement in the nursing program, and roughly four other student organizations, takes up a majority of her time, she realizes service will always be the driving force behind her life decisions.
"Serving isn't an option; serving is a requirement," Dreiling said. "I know that not everyone is going to become a missionary or full-time volunteer. I realize that's impractical, but in whatever job you are in, you have an obligation."
Growing up in a northwest suburb of Chicago, Dreiling witnessed the contrasting lifestyles of wealth and poverty. Her conversion to Christianity in high school encouraged her desire to serve and, inadvertently, become a nursing major.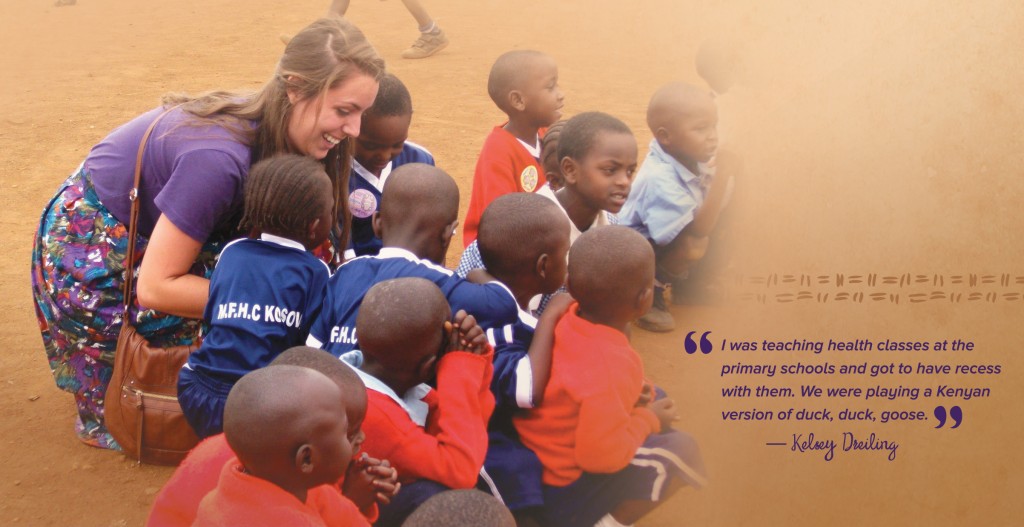 "I knew there was something greater than poverty, hurt, suffering or a money-seeking lifestyle. If all I did my whole life was gain all the riches of the world, that would not be satisfying or enough," she said.
Truman's nursing program has allowed Dreiling to cultivate the skills and knowledge necessary to care for individuals both emotionally and physically. Along with other nursing majors, she travelled to the Philippines to better understand her profession within another culture. However, this opportunity is not the only one that has defined her unique perspective on life.
On campus, Dreiling is active in Campus Christian Fellowship (CCF). She works as an intern, specifically devoted to welcoming and building relationships with international students. This past spring, Dreiling also participated in her fourth spring break with CCF. She and the group served a children's camp by performing maintenance-related tasks.
"People think we are sacrificing something when we go on these trips instead of home or to some beach, but there is nowhere I would rather have been during my break," Dreiling said.
In addition to her University involvement, Dreiling spent two months providing holistic care services in Nairobi, Kenya, after her freshman year. During the days, she traveled to the slums of Mathare Valley where she split her time working as a school nurse and holding HIV/AIDS and clean water clinics for the community. Dreiling's experiences ranged from removing a child's leg cast with power tools to cutting burned skin off a young boy. The trip's impact has remained life altering.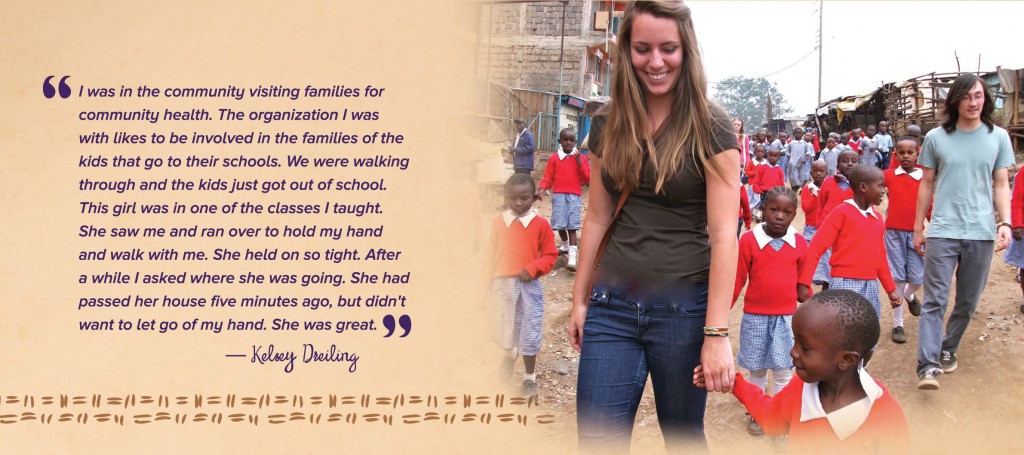 "I saw people fighting to have the opportunity of education, and a lot of kids begging in the streets because they weren't lucky enough. I saw kids getting high on glue to numb the pains of hunger, when I throw away food all the time," Dreiling said. "I want to live in my opportunities with optimism, thankfulness, joy and love as I reach out to others."
After graduation, Dreiling plans to work as a nurse in Springfield, Mo., until she can achieve her dream of becoming a missionary overseas. Despite her worldly experiences and ambitions, Dreiling is still a humble student. She just spends her time a little differently than most.
"I don't hope people remember me, but I hope they remember the kind of sacrificial love I've shown and show it to others too," Dreiling said.