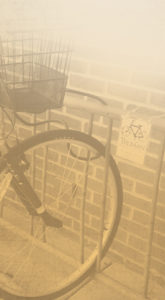 Students, faculty and staff can now borrow a bicycle for the day by presenting a Truman ID at the Student Recreation Center.
Launched in October, the Bike Share Program is a cooperative venture between the Bike Co-op, Student Recreation Center, Business Office, Advancement Office through alumna Colleen Ritchie, the Student Giving Campaign and student founder Theo Greer.
Cable locks and handlebar baskets are included with each bicycle. Adult bicycle helmets are also available for checkout.