Coming to America put Huan Truong on a path to a better life and a rewarding career.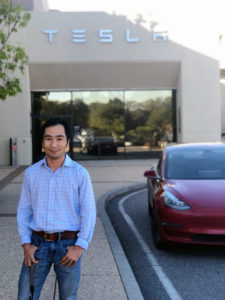 Prior to studying at Truman, Huan Truong was a college dropout in his home country of Vietnam. Today, the computer science alumnus has a Ph.D. and works for one of the most technologically innovative companies on the planet. 
Truong ('11) always wanted to come to the U.S. for his education, but did not know if it would be economically feasible. With encouragement from some friends, including two who were already at Truman, he took a leap of faith and enrolled at the University. Growing up, he viewed the U.S. as a land of opportunity, which to him meant wealth and fame, but his views changed upon arrival.
"The opportunity here is the second chance that many people like me might not have in their home country. In that regard, Kirksville is my American Dream coming true," Truong said. "Kirksville was the place that picked me up as a broken-hearted, and literally broke, 20-year-old who didn't know what to do. Part of what makes Kirksville so special is that it is kind and inclusive for me and many others."
Although Truong made it to America, his journey to success was not always smooth sailing. By his own admission he was a mediocre business administration student. After three semesters, he took a computer science class. It was a subject he enjoyed, but he wasn't sure it would be right for him.
"I didn't know if I wanted to go hardcore computer programming as a major since everyone who does CS seemed boring to the arrogant me at the time," he said.
After a faculty member pointed out he had a long future ahead of him and he should spend it doing what he enjoys, Truong made the switch to computer science the very next day.
While pursuing his Ph.D. in informatics at the University of Missouri, Truong worked on a side project called Crankshaft. It was an open-source, free software that anyone could install in a traditional vehicle to make it a smart car. With Crankshaft, drivers could have convenient, voice-controlled maps and music without having to physically handle their cell phone. It made the roadways safer, and earned Truong the attention of a little company named Tesla.
Once his studies were completed in the summer of 2018, Truong packed up and moved to Mountain View, Calif., and he now spends his days writing code for a company considered by many to be the trailblazer of the American automotive and energy industries.
"I am honored to be working with people who are so smart and work so hard to make great products," he said. "The work makes me feel like I live 10 years in the future. There are problems that can only be solved by the collaboration of thousands and thousands of people. I think making great cars that are safe, smart and fun to use is one of those problems."
As a software engineer, Truong is more problem solver than gearhead. Ironically, for a guy who works at one of the most groundbreaking tech companies in the world, he gets to the office many days by a very old-school means of transportation: his bicycle. He does, however, get to ride in a Tesla car to work on the other days.
"To me, cars are like giant toys," he said. "I love it, to be able to contribute my part in making technology trustable, friendly and helpful in people's eyes. I feel not all tech companies are heading that way, so I feel fortunate to work for a company that seems to have a mostly positive impression on people. Lastly, nothing compares to helping the Earth and humanity while having fun and doing exactly what I love."
In the future, Truong hopes to apply his skills at some of his boss' more ambitious companies. He would love to work for SpaceX on projects like CubeSat satellites or a spaceship.