When Dick and Edie Erzen started dating, Truman was the last name of the president of the United States, not of the college they both attended. Their courtship began more than 70 years ago when they met as students at what was officially Northeast Missouri State Teachers College, although most on campus referred to it as Kirksville State Teachers College. Their story is adorably sweet. Dick, a native of Bethalto, Ill., played basketball and was a member of many organizations, including K Club and Blue Key. A local girl, Edie was a cheerleader and Sigma Sigma Sigma sister who was also active on campus and selected as the Carnival Queen in 1948.
"I'm not really sure how we met," Edie said. "I know my friend said she kind of liked the looks of Dick and I said, 'ick'."
Her opinion changed over walks downtown to get coffee and after taking in a number of movies at the Kennedy Theater. Although they eventually left the area, Kirksville is where Edie and Dick met, got married and welcomed their first child. They have returned countless times for University events and to see old friends and teammates.
The Erzen family tree now spans an additional three generations and has grown to include six grandchildren and three great grandchildren. Whether those descendants realize it or not, they are here today, in part, because of Kirksville.   
"Even though I'm not from there, it's kind of a second home for me, and same as the first home as far as I'm concerned," Dick said. "It's sort of a home base for both of us."
Time rolls on with no regard for the eras it covers, and a college campus is not immune to the changes it brings. Buildings are constructed, only to be torn down years later or destroyed by fire. Students form lifelong bonds with others they meet on campus, yet remain total strangers to those who studied just a few years later. Adjustments in curriculum are made, schools are added, the University name evolves and a liberal arts institution emerges. The one constant through it all – the common denominator of past and present – is Kirksville.
Throughout its history, tens of thousands of people have graduated from the University. The first classes were comprised of individuals seeking to become educators. As time passed, more fields of study were added. Truman now offers 48 undergraduate majors along with seven graduate programs, and options abound when it comes to professional preparation. With majors such as interdisciplinary studies, a student can essentially tailor their degree to whatever career they choose to pursue. Graduates of the University have the potential to be as vastly different from one another as night and day, however, there is one universal connection among all alumni. Whether it is the teacher who graduated in 1889 or the biochemist who earned a degree in 2018, at some point in their educational experience, they called Kirksville home.
In the lives of many alumni, Kirksville is the little surprise they never knew they wanted. They did not plan to make the town such a huge part of their lives, it just kind of worked out that way. Yes, it is where they earned a degree that most use for their livelihood, but it is so much more. It is where many learned how to be adults – to live on their own and realize the safety net of home and family will not always be present, their terror turning to excitement when they eventually discover they "really can do this!"
Kirksville is the metaphorical ground where countless family trees have been planted. Students who were strangers in a class they signed up for only because the time slot fit their schedule can meet and ultimately fall in love. When visiting campus years later, they bore their children with stories of "where it all started" in Violette Hall, and then spend some time in the Sunken Garden, the site of their wedding just a month after they graduated.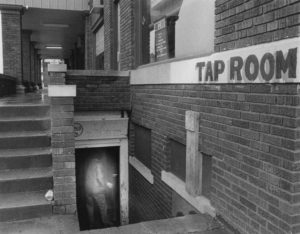 In some ways, a trip to Kirksville is almost like traveling through time. Visiting alumni would not trade the lives they made for themselves to go back, but Kirksville will always tug at their hearts for some reason they can't fully explain. Their college years, which often seemed stressful at the time, are now quaint and comfortable in their minds. They long for the days of everything being within a five-minute drive, sharing a house with seven friends and having to get up "early" for a 9 a.m. class twice a week.
Laura (Boyd) Roeseler ('03) has fond memories of frequenting downtown businesses and even spending one Friday night engaged in a scavenger hunt at Walmart with her suitemates. The big-city native grew to enjoy the small-town vibe and the homey touches that came along with it, like when a professor would work with her outside of class, or when another called to check on her following an illness to make sure she was feeling better.    
"As an alum of Truman, I have an even deeper appreciation for Kirksville," said Roeseler, who has since returned to St. Louis. "It is a wonderful community to be a part of, and I miss it."
Obviously, there is no universal opinion on Kirksville. Depending on who is asked, as well as when the question is posed, individual results may vary. For the most part, the alumni who wistfully recall late-night hijinks in the dorms, or celebrating their 21st birthday at the DuKum Inn, scarcely remember the trepidation they had prior to move-in day.
"I was a little apprehensive about living in a much smaller town than St. Louis," Roeseler said. "While Kirksville was quaint, I worried about not being close to amenities that I was used to at home. As I got to experience the town during my time at Truman, I found that Kirksville had everything I needed, and the community welcomed and appreciated students, which made it feel like home."
Firsthand experience has a way of offering perspective. Kirksville does not have a professional sports team, or a stadium capable hosting a concert by the most popular performers of the day, but the town is not without its appeal. Over time, many students come to realize the benefits of the area, and most alumni have pleasant memories of the place where several of their formative experiences took place.
For proof of the growing affection alumni feel toward Kirksville, look no further than the pilgrimage that is Homecoming. Each year, visitors brave the cool autumn morning to run in the 5K, or line Franklin Street to watch the parade. In the afternoon, some alumni are thrilled their children are finally old enough to bring to the football game, and they eagerly hand over their keys so the future Bulldogs can jangle them at kickoff for a tradition they still don't quite understand themselves. It's not unusual to see a KSTC sweatshirt in the stands at Stokes Stadium on that special day. The alumni who wear them are not disrespecting the University, but rather giving a nod to the way things were. They will proudly be Bulldogs Forever, even if they haven't completely warmed up to this new name that has only been around for 22 years. As the sun goes down, the restaurants in town buzz with excitement. For old times' sake, alumni happily wait twice as long as usual for their local favorites, with Pancake City, Rosie's Northtown Café and Pagliai's Pizza among the most popular haunts. By late night, the bars are filled to capacity. They don't always look like they used to, and in some cases might not even be the same places, yet they somehow feel familiar.
Nearly 50 years have passed since Steve Justice ('70, '81) was an undergraduate, but he tries to return from his home in League City, Texas, as often as he can. His love of Kirksville's small-town charm and his desire to reconnect with friends he met years ago have led him to attend the last 23 Homecomings in a row.
"Besides being able to spend time with friends, I enjoy seeing changes on campus and hearing about all of the new and exciting things going on at the University," Justice said.
Whether it is nostalgia or a genuine sense of school pride, many alumni hold the University in such high regard they gently point the next generation of prospective students in the direction of northeast Missouri when conducting their own college search. The Admission Office estimates roughly 25 percent of beginning freshmen applicants have a family connection to the University or first learned about Truman through a graduate.
"Every year we are thrilled to have a significant number of Truman alumni bring their children or other relatives to visit campus during the college selection process," said Melody Chambers, director of admission. "Nothing beats the sheer joy of proud graduates reminiscing about their time in Kirksville as they share their alma mater with the next generation."
Even if Uncle Rico might be trying to relive part of his youth by suggesting his old school to his nephews, that does not discount the fact Truman has remained a great institution for decades. Prospective students tend to be pragmatic when selecting a school, as well they should. They are calculating, and rarely share the same warm and fuzzy feelings about Kirksville that alumni have come to know. However, countless people have made the transition from skeptical student to gleeful graduate, further proof of something special taking place during their matriculation.
"We did encourage both of our kids to look at Truman for their higher education, however, we did not push them to Truman because we went there," said Todd Rohler. He and wife Stefanie graduated in 1989 and their two sons also chose to attend. "Both of our boys felt like Truman was the place for them right away, and they were sure to tell us that they didn't choose Truman simply because we are both alumni.
"Seeing Truman from a parent's perspective brought back many memories of 'NMSU' for Stef and I. Although there have been many changes, there are still many things that have not changed, like the family atmosphere and the fact that the faculty really get to know the students."
Every town has a story. Kirksville's may not be well known, but it is certainly unique. "Village of churches" is supposedly the literal meaning of the name, but the folktale of how the municipality became Kirksville is much more interesting, albeit, somewhat less holy. Local legend claims the moniker is actually the result of the town's first postmaster, Jesse Kirk, essentially bribing the surveyors working in the area to name the city after him in exchange for some whiskey and a Thanksgiving dinner. How true that story is remains up for debate. Kirk was the head of a prominent family. He also owned a tavern and served as the county treasurer, so he was most likely a respected member of the community. It would have been a logical choice to name the town Kirksville without the need for an arrangement over drinks, but the fable may have outgrown the facts.   
Like many similar towns, Kirksville has deep roots in agriculture and a history of manufacturing, but its amenities belie what census data or maps might indicate. Located in a rural area, with a population that remained steady for close to 40 years, it serves as a cultural and intellectual hub for the region. Few, if any, towns its size can boast of even one high-quality institution, let alone two, but Kirksville is also the birthplace of osteopathic medicine and the home of A.T. Still University.
With thousands of students flocking to Kirksville annually, along with the industries and human resources to support them, the town gets an influx of energy others its caliber might not see. In addition to University activities, Kirksville hosts several special events, like the Red Barn Arts and Crafts Festival and the Round Barn Blues Festival. There is a plethora of cultural options offered year around, including theatre productions and art gallery exhibits. For those who prefer to be outdoors, the area is home to Thousand Hills State Park, as well as numerous hiking and biking trails. Other off-campus attractions include two wineries in the area, an aquatic center and an eight-screen movie theatre. The philanthropic endeavors of the many local clubs and civic organizations also offer avenues for entertainment while spreading goodwill throughout the community.
After Zac Burden graduated from Truman in 2003, the native of Kansas City, Mo., had come to like Kirksville so much he got a job at the University. He is still a 'townie' today, and in addition to his job as director of Missouri Hall he serves on the city council and plans to run for re-election in April.
"When my parents first brought me to college, they predicted I would fall in love with Kirksville. They were right," Burden said. "Two decades later, I love being a member of this community and giving back in any way I can."
Like the town where it resides, Truman has morphed dozens of times over to become the institution it is today. The Homecoming parade may have always made its way down Franklin Street, but the view from the floats has certainly changed. At one point on the route, a spectator can see West Campus Suites, The Ruth W. Towne Museum and Visitors Center and the Student Recreation Center, all relatively new additions to campus. From the same spot, a glance to the southeast offers a glimpse at the Del and Norma Robison Planetarium, one more sight that might be unfamiliar to anyone who has been absent for the last dozen or so years. A school that started with the mission to train teachers, and opened 63 years before Pluto was discovered, now has a facility capable of letting visitors experience what it would be like to travel through the stars.
Change does not always come with desired results, and several things alumni associate with their alma mater can slip away. Thousands of folks would love to stop in at Elaine's for a cinnamon roll, but sadly, the local favorite was lost to fire in 1978. Bulldogs of another era would be more inclined to venture up the narrow staircase at Too Tall's and grab a seat at the oversized table on the third level. That establishment also burned, but rose from the ashes to become Too Tall's Two. When a second fire almost destroyed it again, a new owner attempted to reopen it and, in a sign of good humor, dubbed it The Inferno. Unfortunately, the third time was not the charm. Two Tall's closed its swinging mirrored doors for good and is now open only in the minds of those who loved it.
Thankfully, things in Kirksville seem to be moving in the right direction. The population is trending up, businesses are coming to town and support from the community is resulting in improvements to local roads and parks.
To a certain segment of graduates, Kirksville will always be synonymous with The Bulldog Inn or socials at Kirk gym. Years from now others will have fond memories of laser shows at the planetarium, the farmer's market on Saturday mornings and the first time they experienced the train bridge. What their most memorable college moment may be is less important than the fact they had it and that Kirksville was a part of it. It is their small patch in the quilt of memories constructed by alumni for generations. Town and campus may change, but their ability to create lasting impressions will always remain. Wherever they may roam, in a certain sense for many alumni, Kirksville will always be home.