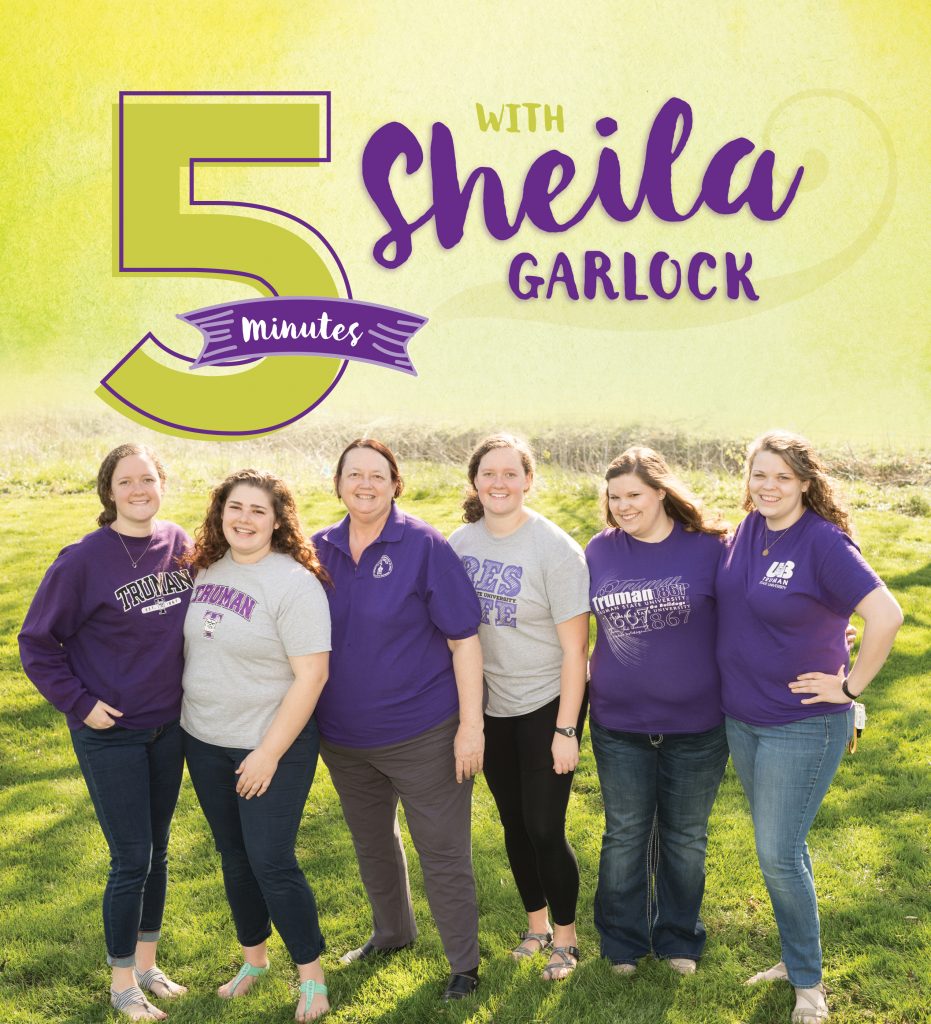 Sheila Garlock has been a presence in the  Communications Disorders Department for 20 years – even longer when counting the time she spent earning her bachelor's and master's degrees from Truman in 1977 and 1978, respectively. In addition to supervising students in the Speech and Hearing Clinic, she teaches both undergraduate and graduate courses. Some of her students have been known to call her mom, a not uncommon moniker for Garlock to hear on campus considering all three of her daughters attended the University. Emily graduated in 2013 and twins Ashley and Natalie anticipate graduating in the near future. Attending Truman is a tradition in Garlock's family. All totaled, 20 relatives have degrees from the University, including her husband and his three sisters. The trend shows no sign of slowing down as five other family members are currently enrolled.
As an alumna and an employee, what went through your mind when your daughters decided to attend Truman?
I was really proud when all three of my daughters chose Truman. They knew they were going to get a great education. The fact that Truman was two blocks away from home was not a problem. I made sure they knew they could be as far away as they wanted or needed, but close enough to run home for a hug and support. I love that they would stop by my office for a hug, a snack or a pep talk.
Why do you think attending Truman seems to be a tradition in so many families?
Truman is a tradition for many families because they have great memories of Truman and the surrounding community. Graduates attribute their successes in life in part to the great start they had at Truman and share that with their families as they grow. When you speak highly of your alma mater, your relatives pay attention.
What led you to teaching?
I worked in private practice, public schools, nursing homes and early childhood education programs. When there was a need for a clinical supervisor in the Speech and Hearing Clinic, I was ready for a new challenge. I found that I loved helping students learn to apply the knowledge they had learned. Later, classroom teaching opportunities were presented, and I found I enjoyed this form of teaching also.
What would people be surprised to learn about you?
I've hiked the Grand Canyon rim to rim and back again, I've fished for salmon in Vancouver Island and I've snorkeled in Hawaii. I am in the Truman women's basketball records for percentage of free throws made.
What is the nicest thing someone has said to you?
My children tell me I am the "best mom in the whole world." I have had several of my daughters' friends call me mom, and I think that is a really nice compliment. I tell my students they can call me Ms. Garlock, professor or mom.
What is the most rewarding part of your job?
The most rewarding part of my job is watching students walk across the stage at graduation. It is an honor to be a part of a great legacy, sending young men and women across the world to make a difference in the lives of others.
What is your best advice to your students?
Don't be in a hurry. Four years seems like a long time, but it goes by so fast. Make the most of your time in college – experience new things, take risks, explore different ideas, make friends with someone from a different culture. And when you graduate, remember your alma mater.