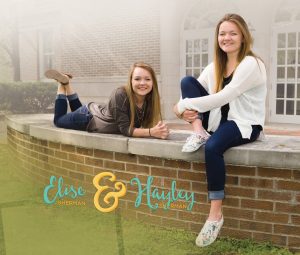 College was supposed to be the time when Hayley and Elise Sherman set themselves apart – literally. The identical twin sisters from Springfield, Mo., always planned on attending different schools, giving them each a chance to be seen as her own person.
"We were adamantly against going to the same school," Hayley said. "One of my biggest fears is turning out like one of those pairs of twins that never separates, so going to the same school was not something I had ever considered."
Their plan to split up was put on hold for at least four years.
"Somehow we both ended up at Truman, and we're still not quite sure how that happened," Elise said.
Each sister earning a highly competitive Pershing Scholarship from Truman probably had a little something to do with them coming to Kirksville together. In addition to covering the cost of tuition, along with room and board, Pershing Scholars receive a stipend to support a study abroad experience. Only about a dozen incoming students are selected for the University's most-prestigious award.
"We went into the interviews knowing there was a very real chance that one of us would be getting the scholarship while the other would not, so it took us all by surprise to learn we had both gotten it,"  Elise said.
During the selection process, the sisters, along with parents Paul and Beverly, had been cautiously optimistic about their chances for success.
"That's not to say that they don't encourage us or believe in our abilities, but rather that they just knew how unlikely it would be that the committee would choose two students from the same city, let alone the same family," Hayley said.
One member of the family has a different interpretation of how Hayley and Elise ended up at the University. Brother Sam ('14) was the first member of the family to graduate from Truman. As a former student ambassador, he tried to sway the twins' decision.
"Having him here gave us insight into what a great school Truman really is, but when it came down to actually making a decision to attend, Sam really didn't factor into that," Elise said. "However, I'm pretty sure he feels as though he's the sole reason we attended Truman, despite protests from both Hayley and me."
One piece of information Sam shared with Hayley turned out to be particularly influential.
"He told me once that every student at Truman was passionate about something," she said. "That really stuck out to me, and I've found it to be true. Every organization that I'm in has allowed me to grow as a person and as a leader."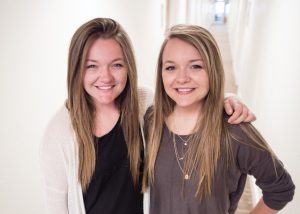 Although they may not have moved forward with their plan to go to different colleges, the sisters have been able to distinguish themselves in their own rights. A business administration major, Hayley is active in Delta Sigma Pi and the Student Activities Board. Elise, a biology major, is involved with GlobeMed, as well as the Funds Allotment Council and women's club soccer. They also used their study abroad stipends to visit different locations. Elise participated in a marine research trip to Belize in May, and Hayley will be spending the fall semester in Belgium.
"It seems to me that Truman provides an exceptional environment for getting to know like-minded people who still challenge the way I view the world," Elise said.
Their different interests have allowed the sisters to grow enough that some people on campus do not realize they are part of a set of identical twins.
"A lot of our friends are different, or we've met people separately so they know that we aren't really all that similar," Hayley said.
"My time at Truman has involved a fair amount of waving back to random people who think I am Hayley," Elise said.
Just because the twins have a desire to be seen as individuals, it does not mean they are not close. In fact, they doubled down on their sisterhood, as they both joined Sigma Sigma Sigma. Contrary to popular belief, they cannot read each other's mind, but they are close enough they can each tell what the other is thinking with little more than a glance between them.
"It's basically comparable to having a best friend that you've been around so much that you know literally everything about each other," Hayley said.
Aspects of their personality are also comparable.
"We do have basically the exact same sense of humor, and that tends to weird people out sometimes," Elise said.
The twins are on track to graduate in May 2018, and in all likelihood their career paths will finally take them apart. Elise plans to attend medical school and become a doctor, while Hayley has her sights set on becoming a lawyer. Although they have been planning their separation for years, at times even anxiously looking forward to it, it might not necessarily be easy for them.
"We'll just end up where we end up," Hayley said. "I very much doubt that we'll ever be in the same city again, which is somewhat sad to think about."
Despite any physical distance that may come between them, they will always have each other.
"Hayley and I are probably closer than we even really know," Elise said. "In my experience, being a twin definitely gives you a closer bond than normal siblings. We've been around each other for our entire lives, so it would almost be difficult not to be as close as we are."