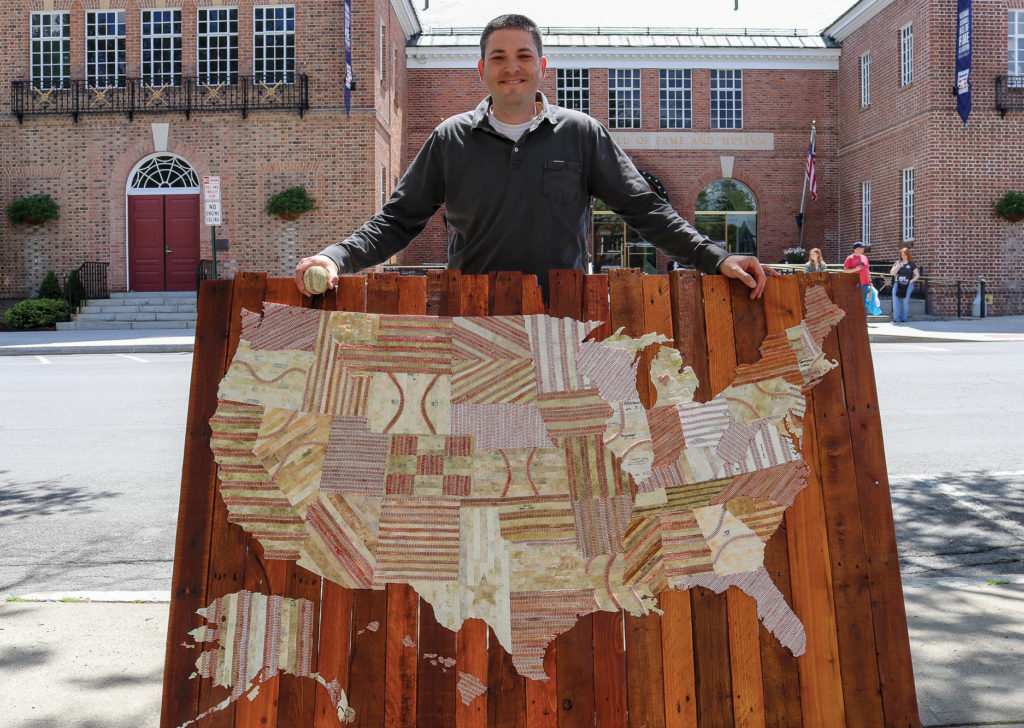 Like many kids, Nate Rueckert ('03) was obsessed with baseball. He played countless hours of catch with his father, went to see his hometown heroes at Busch Stadium and even tried to emulate them on the field during little league games. He was talented enough to play at the collegiate level and did so for three seasons while pursuing his Bachelor of Science degree in accounting at Truman. It is rare to be included in the Baseball Hall of Fame without a day spent in the majors, but Rueckert found a way to make it happen.
A labor of love has evolved into a profitable side business for Rueckert, and it earned him a spot in the sport's most hallowed halls. In 2017, a five-foot wide map of the United States he crafted entirely from used baseballs debuted in Cooperstown.
"There's just something awesome about taking something tattered, torn, used, forgotten – these baseballs that have definitely seen better days, ones that most coaches would just throw away – and just turning them into beautiful pieces of art," he said.
Being an artist was never really part of the plan for Rueckert. Indeed, his day job remains far more analytical. After working in public accounting at Ernst & Young, Rueckert and his wife, Micaela ('05), are raising their three daughters in Sioux Falls, S.D., where he is a senior external financial reporting consultant for Wells Fargo Advisors. He works four days a week with the fifth day dedicated to his business, the Baseball Seams Co., which he started in 2001 while he was still a student.
Inspiration can come from a variety of places, and for the Baseball Seams Co., its origin is rooted in the wake of tragedy. Rueckert remembers vividly the events of 9/11. He skipped his classes and was glued to the television, trying to comprehend the news of the day. Like so many other Americans, he felt hopeful the following month when he saw the president throw out the first pitch during the World Series.
"For me, it was a moment that transcended sports," he said. "For whatever reason, the idea to make an American flag out of old, tattered baseballs popped into my head."
Rueckert has been making original works of art using baseballs as his medium ever since. The project that was displayed in the Baseball Hall of Fame was actually a two-year undertaking that evolved into a book.
After crowdfunding more than $30,000 through Kickstarter and sponsorships, Rueckert worked with a baseball writer to interview individuals from each state and share their inspirational stories. Baseballs they donated were used to create the map, and their stories were paired with artistic photos and compiled in a hardback coffee table book available on the company website, as well as the Baseball Hall of Fame museum shop.
BaseballSeamsCo.com is far from any run-of-the-mill sports page. It is equal parts art, nostalgia and patriotism. Over the years Rueckert has learned the true value of the game. It is more than statistics or championships. It is something so simple children can play it in the backyard, yet meaningful enough it can help heal a nation in a time of crisis. It is America's pastime and, for many, a way of life. Rueckert's company is less about a paycheck and more about staying connected to something he loves while using it as a backdrop to share values he feels are important.
"The memories you have in your childhood – it brings out the love you have for your country, the love you have for your faith," he said. "That's what I try to convey in my artwork – connecting baseball to something else that you really feel passionate about."