On May 2-4, Stokes Stadium/Kenneth Gardner Track served as hosts for the 2019 Great Lakes Valley Conference Outdoor Track & Field Championships. Twelve teams and more than 450 student-athletes competed for conference gold in the first conference meet on campus since 2003.
The Bulldogs produced two GLVC champions during the meet, with senior Elle Renault repeating as javelin champion and the men's 4×400 meter relay team winning their first conference relay championship since 1979. Members of the relay team were Eddie Barrett, Mitch Henderson, Kyle Kubernat and Elijah Farrales.
Both the men's and women's teams finished in the top tier of the conference, with the women scoring 70.5 points and finishing fifth and the men 78.5 points and placing fourth. The University of Indianapolis won the men's team title with 222 points while Lewis University won their fourth-straight GLVC team title in one of the closest finishes ever over UINDY 180-179.5.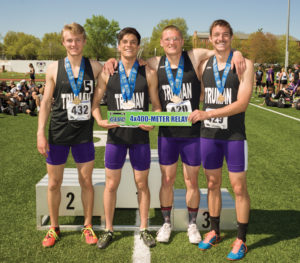 In total, 13 Stokes Stadium records were broken during the three-day championships.
To assist with running the meet, Truman student-athletes from all other sports volunteered during the championships, and several volunteers from both the Kirksville and Truman communities helped make it one of the most successful conference championship events in recent history.