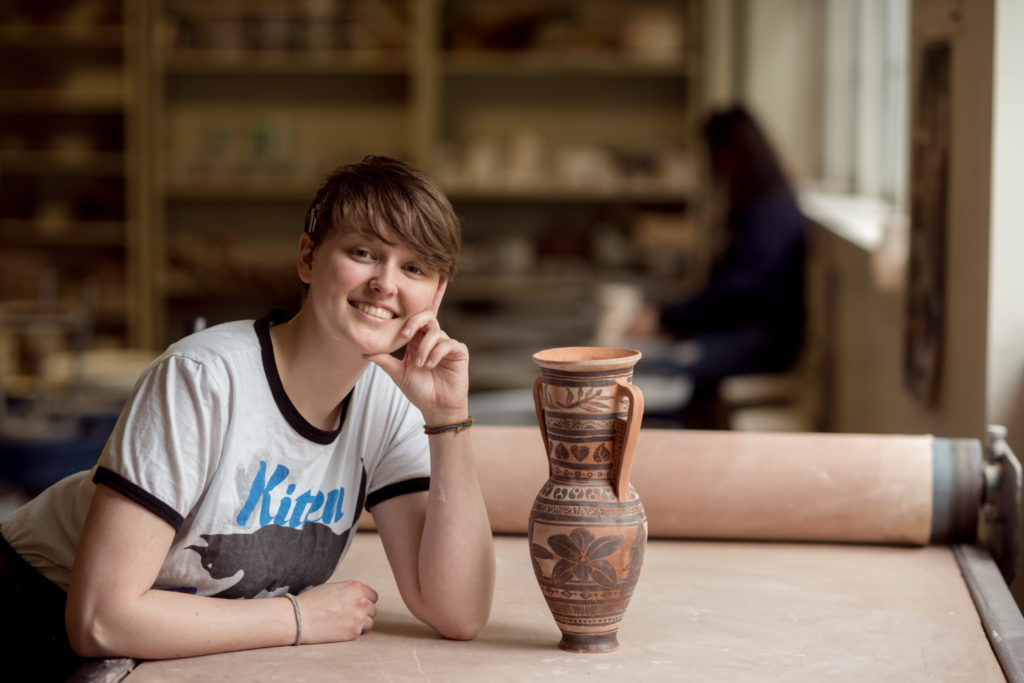 Like a lot of artists, Maggie Adams uses her art in an almost therapeutic way. When her mind is weighed down with heftier subjects like time, memory, the human condition – even life and death – it comes out through her work in fibers. Conversely, on her more carefree days, she can just throw a ball of clay on the pottery wheel and see where it takes her.
"I'm attracted to both fibers and ceramics because as a discipline they both started as purely functional objects," Adams said. "There is no practical reason for people to add decoration to the surface of a pot or intricately sew patterns into cloth, and yet we do."
While there may not be a practical reason to embellish everyday items for artistic reason, that is not to say it doesn't serve a purpose.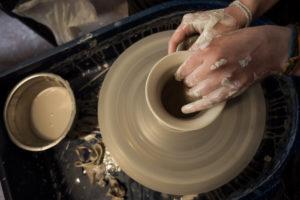 "A person's problem-solving and decision-making skills are challenged and developed in an art class," Adams said. "Yes, math and science courses do this as well, but in an art class the many problems that will inevitably arise when trying to create something can be resolved in more variable or subjective ways. A person who can adapt to these problems and move forward will begin to cultivate these skills and apply them in other areas of their life."
A native of Kirksville and a rising junior at Truman, Adams was looking for a small-college experience where she could make connections with faculty members and fellow students. That was particularly important when it came to how she would turn the studio art major she picked out of passion into a career.
"It was reassuring to meet people who were pretty much in the same boat as me, because very rarely do schools talk about different career opportunities in the arts," she said. "I have been able to make great friendships with other art majors and build positive connections with many faculty members due to the welcoming and close-knit atmosphere of the Art Department. They are a huge factor in how positive and enjoyable my experience here has been thus far."
That support is one of the reasons Adams plans to go into art education in the future. She hopes to earn a Master of Fine Arts degree in either ceramics or fibers and eventually help the next generation of aspiring artists. This summer, she will get a chance to try out the profession while serving as a preceptor for the Joseph Baldwin Academy, Truman's summer program for students in grades seven through nine.
"If I can survive three solid weeks with a bunch of middle schoolers who are into ceramics, I can handle anything down the line," she said.
Adams plans to be a professor in post-secondary education, but her ultimate goal is to remain close to what she simultaneously considers her means of escape and her connection to the rest of the world. 
"Honestly, wherever I am, as long as I'm working with art, I will be content," she said. "Art is the only thing that I can give 100 percent of myself to with no regrets, no matter how much time or energy I choose to devote to it."