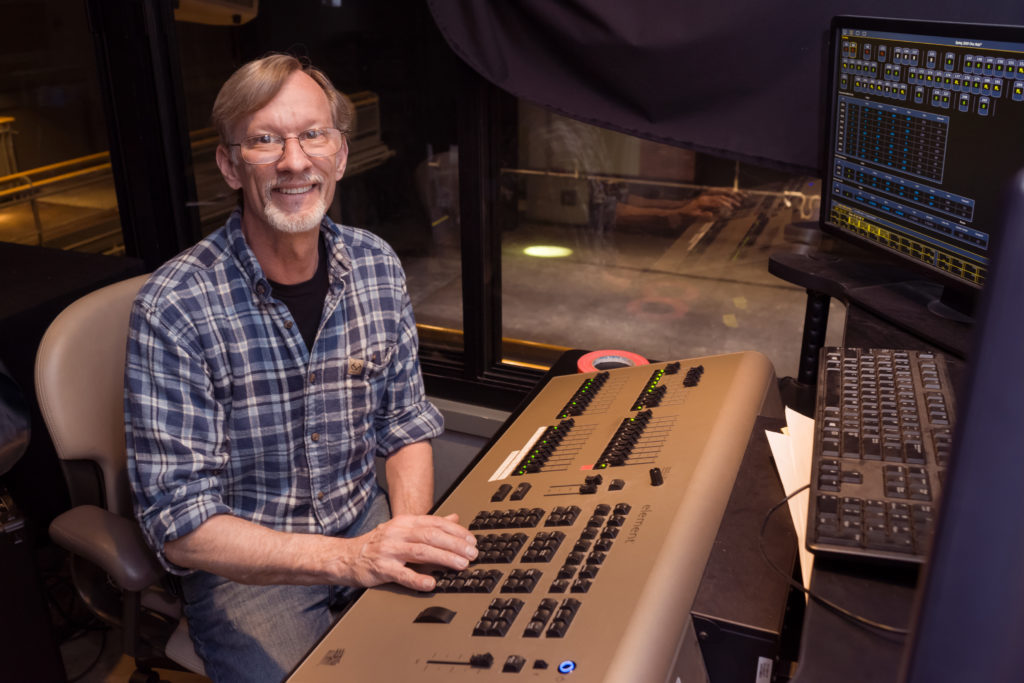 For 31 years, Ron Rybkowski has been a fixture in the Theatre Department, however, casual fans of Truman productions can be forgiven if that sometimes slips their minds. Rybkowski does not long for the spotlight, but relishes in helping others succeed. He is the technical guru of the department and has helped design, build and light stages for so many productions there is not enough space to list them all here. He also has more than 50 directing credits to his name, with "Jekyll and Hyde: The Musical," "The Drowsy Chaperone," "The Wake of Jamey Foster," "Into the Woods" and "See How They Run" among his favorite shows.
After eight years in professional theatre Rybkowski made the switch to teaching because it offered him a chance to guide students who were excited about working in the industry, and it gave him the stability to always be there for his family. With both a bachelor's degree and master's degree in theatre from, respectively, Whittier College and California State University, Fullerton, Rybkowski has been working with students at Truman since the late 1980s.
Although he will officially retire during the summer, his name will carry on at Truman for years to come. In the spring, he was surprised with the announcement that the Ronald M. Rybkowski Honorary Technical Theatre Scholarship had been created after alumni, co-workers and friends raised money to establish a Truman State University Foundation fund in recognition of his years of service.
How would you describe your teaching philosophy?
I truly believe in and support the mission that has made this University what it is today. The philosophy of a well-balanced and broad-based education is most appropriate and evident in the teaching of theatre. No other major combines performance, literature, art, music, communication, psychology, sociology, math, chemistry, biology and engineering in ways that theatre does. One of the biggest benefits of directing is showing my students what can be achieved with a well-rounded education. I, too, have a degree from a liberal arts and science college. It gave me the ability to succeed in many areas, and so can they.
What do you like best about teaching?
Every semester is new! New students, new productions, new challenges and the opportunity to work through all of it. I have been blessed to work with some of the most talented faculty members and students over my 31 years, making me a better artist and person.
What would people be surprised to learn about you?
I'm not a big fan of Shakespeare. I feel too many people put his work way too high on that proverbial pedestal. There are a lot of great playwrights and plays that deserve just as much attention as his work. Besides, Christopher Marlowe wrote all those plays anyway, so let's give credit where credit is due.
What is the most rewarding part of your job?
Working side by side with my students. I am very fortunate that most of the courses I teach require hands-on experience, where we get out of the classroom and into the theater. Being able to work so closely with my students has been richly rewarding.
What has been the high point of your career so far?
Making a difference in my students' lives so much that they created a scholarship in my name.
What was it like to hear that there will be a scholarship named in your honor?
Very humbling! It's hard to describe the warmth I felt. As if every one of my students, past and present, all at one time, gave me a hug. To have meant so much that I somehow shaped or moved them, guided them forward to achieve what they desired, and that I played a part in that so much that they would band together to honor me for – in my opinion – just doing my job, is absolutely remarkable.