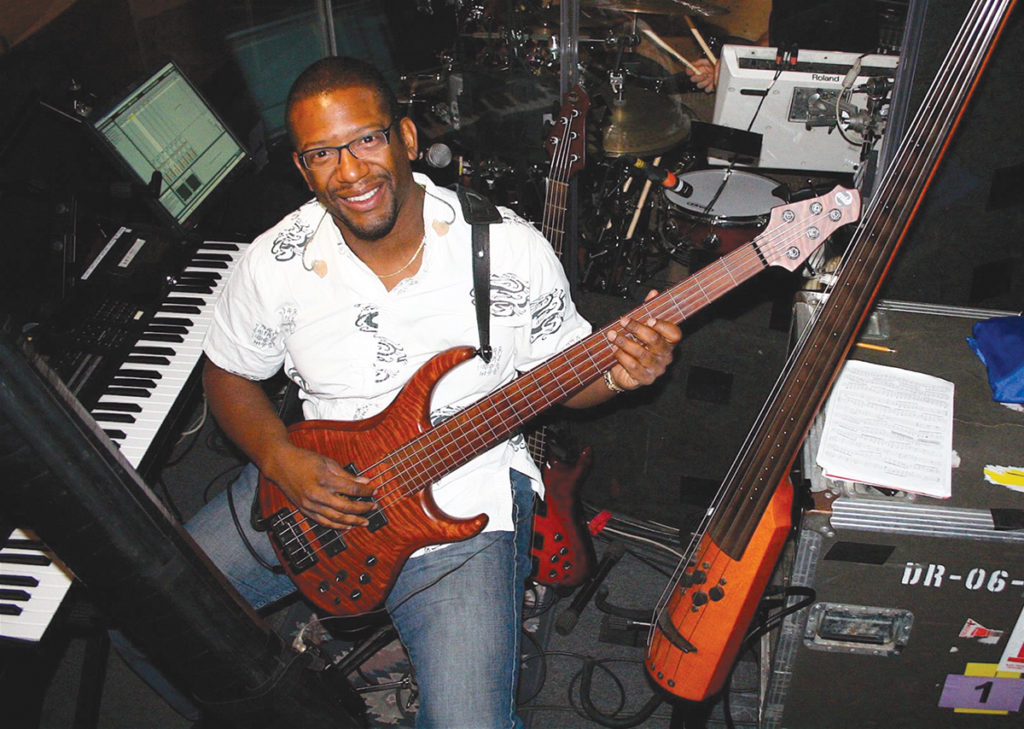 Anthony Cooperwood has made a living through music, mainly by being prepared when the right opportunities came along.
Good music usually has a flow to it wherein all of the parts come together so perfectly the listener never considers the hard work that went into creating it. On the surface, Anthony Cooperwood's life appears to have some similarities, as if one serendipitous event after another simply led him to an interesting existence. The truth is, he put in a lot of effort to go from Grandview, Mo., to performing more than 4,000 times on three different continents as a musician, most notably with Cirque du Soleil.
Cooperwood came to Truman on a piano fellowship and earned three degrees before all was said and done, including two bachelor's degrees in 1993 and a Master of Arts in Education degree the following year. When it was time to start his music career, he picked what he knew would be the most challenging location.
"I figured if I could succeed in New York City as a musician then I could succeed anywhere," Cooperwood said. "Truman helped me get the knowledge and background, but New York shaped me into an adaptable tool to be used in a variety of situations by placing me in those situations."
Interestingly enough, it was connections Cooperwood made in the small town of Kirksville that assisted him in the big city. A tip from local bluegrass queen Rhonda Vincent helped him get a job playing with former Bill Haley & The Comets guitarist Bill Turner. Cooperwood also supported himself by teaching piano lessons and playing in wedding and club bands.
"The music industry is not only the notes you play on the gig," he said. "It is also the jobs you take that have nothing to do with music. It's the people you interact with on a regular basis to build your network. It's even the simple discipline of showing up on time and being prepared when you arrive to do what it is they are expecting and paying you to do."
When Cooperwood landed a job as a substitute piano player for the Big Apple Circus in Manhattan, he shadowed the show one night in preparation. The other substitute piano player, whom he thought was great, made a few minor mistakes, and when Cooperwood heard the band director nonchalantly say "I'll never use that guy again" it made him realize he needed to step up his game. Cooperwood immersed himself in preparation for the show, practicing along with recordings and randomly going through the entire production whenever he had the time. All that hard work paid off, and when he finally got the chance to sub he made the most of it. A composer who worked with Cirque du Soleil was in the audience during one performance and was so impressed she suggested an audition.
Based in Montreal, Canada, Cirque du Soleil is the largest theatrical producer in the world. In the roles of keyboardist, bass guitarist and backup conductor for the "Dralion" production, Cooperwood traveled extensively across North America and Europe.
"I had the itch to get moving and was glad to stretch my legs and talents with the Cirque," he said. "We were completely free from the 9-5 life within the towns and cities we worked. We made friends and experienced travel sites I'd only seen before on television and in books."
Much like he felt the call to hit the road, Cooperwood also knew when it was time to leave it. Around 2005, he had the urge to start a family, and he settled down with a woman in Montreal. The couple have a child together, and while Cooperwood isn't touring the world anymore, he still performs locally and is sharing his love of music with the next generation. Cooperwood is the director of bands at Rosemount High School. His advice for aspiring musicians is simple.
"Practice," he said. "And when you are done, practice some more."