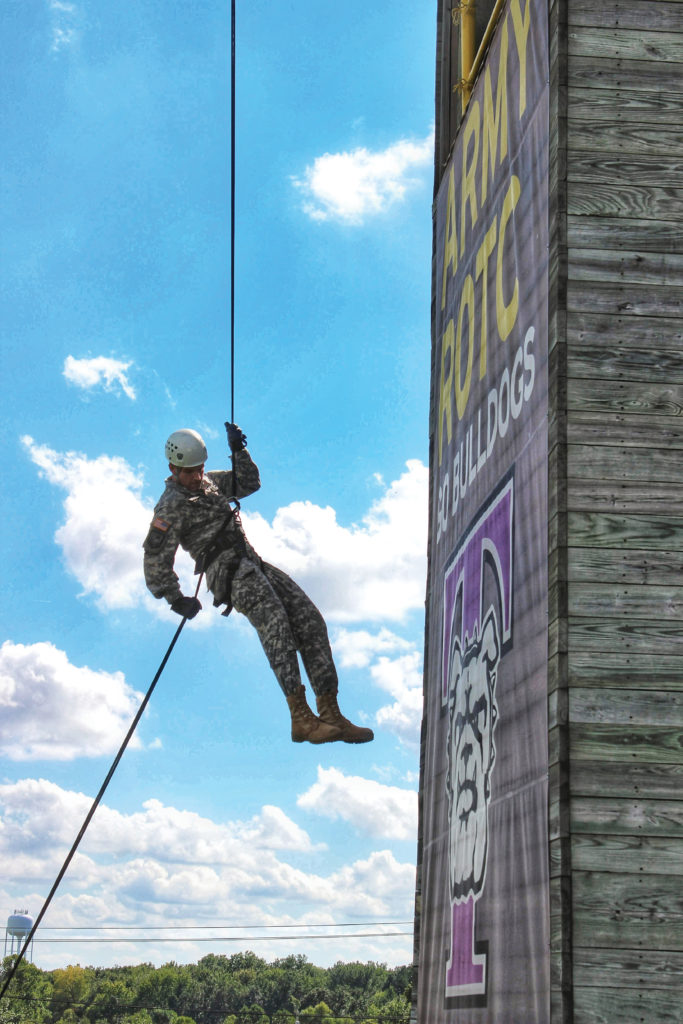 The Reserve Officers' Training Corps (ROTC) program will celebrate its 50th anniversary on campus at Homecoming this fall.
Chartered in 1968 by University President F. Clark Elkins, Truman's ROTC program began in the 1969-70 school year, and it was one of 13 schools in the nation to have a unit established that year. A first-class leadership development program, ROTC offers students scholarships and an unparalleled opportunity for personal development. Truman graduates receive a degree and a commission as an officer in the U.S. Army. Throughout its time on campus, 745 officers have been commissioned through the program.
All alumni are formally invited to join in the festivities. Starting Friday, Oct. 18, there will be a social night at a location to be determined. Attendees will be able to talk to the senior class about their various Army experiences. The Military Science Department will also be inducting the newest members to the Alumni Regiment Hall of Fame at the event.
Saturday, Oct. 19, the ROTC Color Guard team will lead the annual Homecoming parade down Franklin Street. Later in the day, the Military Science Department will participate in the Homecoming tailgate. They are working with several Missouri Army National Guard units to provide static displays of Army equipment such as a UH-60 Blackhawk, Buffalo mine protection route clearance vehicles and an M777 Howitzer. Everyone is welcomed and encouraged to come interact with these displays. There also will be the opportunity to mingle with the rest of the battalion after the annual Alumni Regiment meeting.
The Homecoming game will kick off with a bang from the ROTC's very own M116 Howitzer, Black Jack, as the Bulldogs take the field. The cannon returned to action in the fall of 2015 after being sent to the Missouri National Guard Maintenance Shop in Jefferson City for safety certification the previous year.
---
All alumni and friends of the program are invited to reconnect with the ROTC program during Homecoming. No formal reservations are needed, but program alumni who would like to update their information and stay informed regarding all activities surrounding the 50th anniversary are encouraged to contact the Military Science Department at
(660) 785-4451 or rotc@truman.edu.