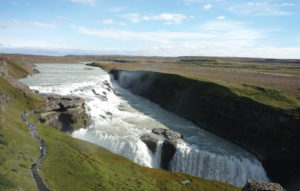 The Truman Alumni Travel Program has selected Iceland as the tentative destination for 2018. The six- to eight-day trip will feature scenic highlights like Iceland's most famous waterfall, the mighty Gullfoss, the Blue Lagoon and the national park at Skaftafell, along with a stop at Lake Jokulsarlon, the deepest lake in Iceland.
Participants will have opportunities to explore the frozen landscapes featured prominently in "Game of Thrones." See icebergs, whale watch and visit one of the world's largest geothermal power stations. Stops include Reykjavik, Geysir, Thingvellir and Kirkjubaejarklaustur. Trip includes at least six breakfasts and five dinners. Current pricing is estimated at $2,500-3,500 plus insurance and airfare. (Pricing and itinerary for 2018 are subject to change.)
Traveling with a group removes the headaches and hassles! Enjoy knowledgeable guides and experienced drivers and organizers. Travel with other Truman alumni and friends and relax in first-class comfort.
Where would you like to go? Contact Alumni Director Denise Smith at dlsmith@truman.edu with your top travel selections. Future destinations may include Spain and Portugal, Greece, Hawaii, the Canadian Rockies, Italy, Germany, South America, Napa Valley and Panama, to name a few. Be sure to email to request to be added to the mail list for future trips and to submit your trip preferences.