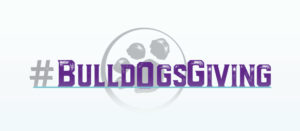 The second annual #BulldogsGiving gave donors the chance to compete for matching funds from Truman alumna Colleen Ritchie ('84). Donors could support any area of campus important to them during the weeklong campaign (Nov. 14-18) with matching funds available in four featured campaigns: Athletics, the Black Alumni and Attendees Scholarship, the Greek Letters Today, Leaders Tomorrow Scholarship and the Truman Band Fund.
The featured areas took their campaigns to social media, increasing exposure and attracting donations from alumni, parents, students and friends of the University. A spirit of competition fueled the challenges, attracting even more donors this year – 340 people contributed $20,405 to the featured campaigns. With 118 donors, wrestling won the Athletics challenge and the $2,500 match. The Truman band met the most challenging tier of the participation goals and was rewarded with a $2,500 match. The Black Alumni and Attendees Scholarship and the Greek Letters Today, Leaders Tomorrow Scholarship each received $500 in matching funds. With match money, the total contributed to featured #BulldogsGiving campaigns reached $26,405 – surpassing last year's totals by 34 percent.
This year's #BulldogsGiving highlights the importance of community coming together to impact the Truman experience of current and future Bulldogs. The featured funds were selected based on the history of camaraderie that defines these groups, and the continued investment of a community of loyal donors helps the funds to grow and support more students.