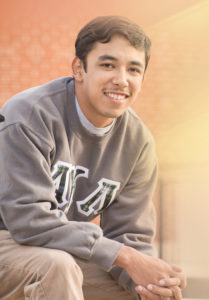 When Cisco Juarez settles in to study, the soundtrack that begins to filter out from his room might come as a surprise. Jazz music is a staple in Juarez's life. Music dating back more than 100 years is probably not the most popular choice for a college junior's playlist, but Juarez appreciates the genre's rich history and cultural significance. His affinity for jazz can be traced back to a course he took at Truman. It's just one of many things that his experience on campus has helped him discover about himself.
When he first arrived at Truman, Juarez had no idea what he wanted to do with his life. His high school's international baccalaureate program pushed its students in every direction, so he was more than ready to tackle any subject. However, being so well rounded had its drawbacks.
Surrounded by other students already pursuing their goals, Juarez had too many options from which to choose. He started out his freshman year as undeclared, then proceeded to experiment by trying on different majors from across the board. He briefly flirted with the idea of studying health science in order to become a dentist.
"I thought that was the only way I could get a job," he said.
After talking with his advisor and students from different departments, Juarez decided on public communication. He saw it as a field of study that would continue to build on his multifaceted education.
"Numerous public communication students reassured me that the major could take me in any direction I wanted," Juarez said. "After a lot of evaluation with my academic advisor, I finally chose public communication because the field is so broad."
Most of his personal growth, however, was found outside of the classroom. He credits joining Alpha Kappa Lambda as the foundation for his success.
"Without Greek Life, I would never have been the leader I feel that I've developed into today," Juarez said. "Greek Life has helped me gain confidence that I did not know I had."
The initiative Juarez demonstrated in his fraternity secured him additional opportunities. After he served as a committee chair for Greek Week in his sophomore year, the committee advisor quickly recognized his work ethic and commitment to the University. She nominated him for the Student Philanthropy Council, knowing his voice would be a valuable contribution.
The council works directly with the Office of Advancement to serve as a bridge between the University foundation and the student body. In his first semester in the organization, Juarez became president of the council, and one of his main objectives is to ensure the annual Student Giving Program is a success.
"Our goal is to get all students to love Truman as much as the council does," Juarez said. "It's important to give back in any way, large or small."
Juarez's hope for the future is to continue giving back to others. He is certain he wants to help people in need, whatever the cause, and with his background, he is well suited for a variety of philanthropic careers. He already has a plan in mind.
After graduation, Juarez intends on moving to San Antonio, Texas. He wants to do a year of service with City Year, an education-focused group dedicated to helping students from high-poverty communities stay in school. Ultimately, his goal is to go into nonprofit events planning.
For Juarez, the transition to San Antonio would be simple. A native of Kansas City, Mo., he never imagined himself living in a small town. He had been accepted to a more sizable university, but applied to Truman at the last minute on a whim.
"I already had a dorm picked out at another school, but in May of my senior year, I got the feeling that attending a larger university wasn't the right decision," he said.
Juarez's choice to go with a more selective university rewarded him. He has grown to appreciate the small-town feel of Kirksville, and he expects it will be strange to leave Truman after he graduates. The school's personal nature makes it easy to always find someone he knows, and he will miss how much there is to do around town.
"You definitely grow to love Kirksville," he said. "You would think in such a small town like Kirksville you would never have anything to do, but that's completely wrong. There's always an event happening."
Juarez's extensive involvement on campus illustrates what makes Truman unique. From his time as an undecided freshman, to his final semesters as a driven campus leader, he does not hesitate to take chances, and Truman's liberal arts environment allowed him to flourish.
"This University provides you with so many opportunities to get involved," he said. "It's so personal. If I had attended the other much larger university, I don't think I would have joined any organizations on campus. Truman is different."
– KAIN KNEIB