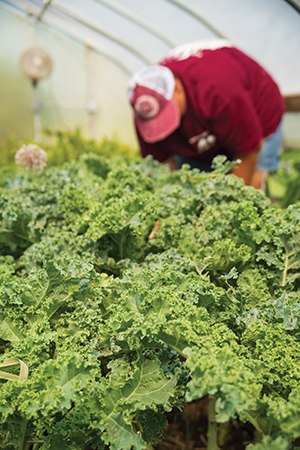 Thanks to a gift from Dr. Pete Goldman, professor emeritus of biology, the University Farm has increased its ability to provide fresh produce for students and community members, enhanced sustainability efforts on campus and provided additional educational opportunities for students.
Since 2011, the greenhouse at the University Farm has provided fresh local produce to Sodexo and the Adair County Food Pantry. The new greenhouse space provides nearly four times the capacity for students to grow fresh fruits and vegetables all year long.
Goldman taught biology at Truman for 44 years. In 2008, he established a scholarship through the Truman State University Foundation for students in biology. The Evolution, Ecology and Conservation Scholarship fund, designed to provide scholarships in perpetuity, has provided nearly $18,000 in support to date. His most recent gift to the Foundation has provided for construction of additional greenhouse space. An avid hiker and bird watcher, Goldman is a community leader in the promotion of sustainability and environmental issues.
The current greenhouse is highly successful, having a low loss rate. By reducing the need to transport outside produce in to Kirksville, the greenhouse makes a significant impact on sustainability and provides learning opportunities for students. The main focus of the University greenhouse operation, however, is to make sure the dining halls and food pantry get enough quality produce.
"To me, the new greenhouse space makes the whole University slightly more sustainable," Goldman said. "The food is produced locally, it's organic and it goes from farm to table in the blink of an eye."
To learn more about matching your philanthropic interests with University efforts, contact the Office of Advancement at (660) 785-4133 or truman.edu/giving.