An optimistic approach to life has helped Shelley Washington establish a career doing what she loves.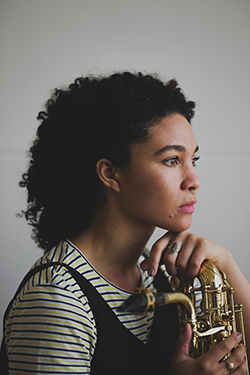 When put on the spot to identify a composer, most people can name Bach or Beethoven. More refined listeners can cite other – usually long deceased – men often associated with classical music. Shelley Washington is one of the relatively few individuals who can claim composer as a job title, but she doesn't buy into the perceived hoity-toity nature of the field.
"Anyone is a composer the second you intentionally make something up," she said. "You don't even have to write it down. If you make up some noise in your head that you intentionally assembled, that's it. That's the only thing it takes to be a composer, in my mind. Because I don't think you have to have specialized training to be able to make stuff up that you like that you want to share."
Washington ('13, '14) has a relaxed approach to her profession, probably because she has the bona fides to back it up. Along with her two degrees from Truman, she has master's degrees from NYU and Princeton, and she is a year away from earning a Ph.D. in music composition from the latter. Her experience goes beyond theory and into actual practice, having composed pieces for large and small ensembles, soloists and even musical theatre. Washington's musical influences are vast and wide, making it difficult to categorize her creations.
"Making sound and noise in some capacity is just what I do, and it is also very convenient that it is my job," she said. "It is hard for me to explain it because it's the stuff I wrote."
Growing up in Kansas City, Washington's parents regularly took her to the symphony and opera, and her uncle was a prominent jazz musician. She learned how to play the English handbells through her involvement in church  ensembles, and on any given day she can be found listening to country, pop, folk, big band, rock or mambo. Making a living as a composer was never the original goal. She came to Truman with the intent to become a music teacher.
"I grew up listening to everything that was on and really just loving all of it, and I didn't want that to go away," she said.
The plan changed for Washington just before she started the MAE program at Truman, thanks to an interdisciplinary grant between the music and theatre departments. Two students – one from each program – were selected to spend the summer creating a musical theatre production. Washington got her first taste of composing original music, and it sparked an interest. After completing her degree, she visited family in New York City to check out prospective schools. She also researched contemporary composers, becoming a fan of Julia Wolfe. Washington got to meet Wolfe on her trip to New York and even sat in on one of her classes. When Wolfe expressed interest in Washington's portfolio, her career trajectory changed immediately.
"That was all I needed, to hear one of my heroes saying, 'hey, I like your stuff, and I think you should do it,'" Washington said.
Making a drastic career change and moving halfway across the country to one of the biggest cities in the world might seem overwhelming to some. For Washington, it fits right in with her philosophy on life, which pretty much boils down to "sure, why not?"
"That's been 90% of my career thus far – 'sure, why not?' – and it's been really fun. It's really weird, but it's really fun," she said.
Keeping an open mind has opened doors for Washington. Her willingness to work with anyone, try anything and go wherever the job may take her has led to one experience after another. She's played with nearly 20 different ensembles and recorded with countless artists, samples of which can be found on her website, shelleywashington.com. Her work was even featured in an episode of the Netflix documentary series "Explained."
As a performer, Washington specializes in the baritone saxophone. She is also proficient in the alto saxophone, flute, handbells and guitar, but surprisingly not the instrument most people associate with composers. She self identifies as a "garbage" piano player.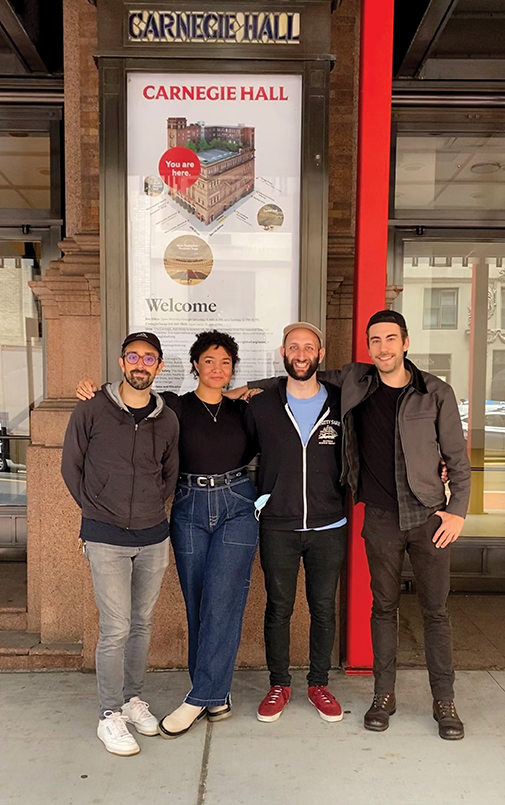 In addition to her composing career, Washington's versatility as a performer helped her snag a spot in the Brooklyn-based band Good Looking Friends. The passion project checks a very specific item off of her bucket list.
"My childhood dream of playing in a rock band is being fulfilled, and I love it," she said.
Washington is always looking for an opportunity, and she has already found her next project. She will spend the next three years writing and editing an opera in conjunction with a friend's podcast based on the life of former model-turned-stalker Nell Theobald.
"This is a first for me, which is very scary and very exciting," she said. "It's hard learning new things, especially once you become a grown-up. However, I will never stop learning."