Greg Gerhardt has dedicated his career to improving the lives of patients with neurological diseases.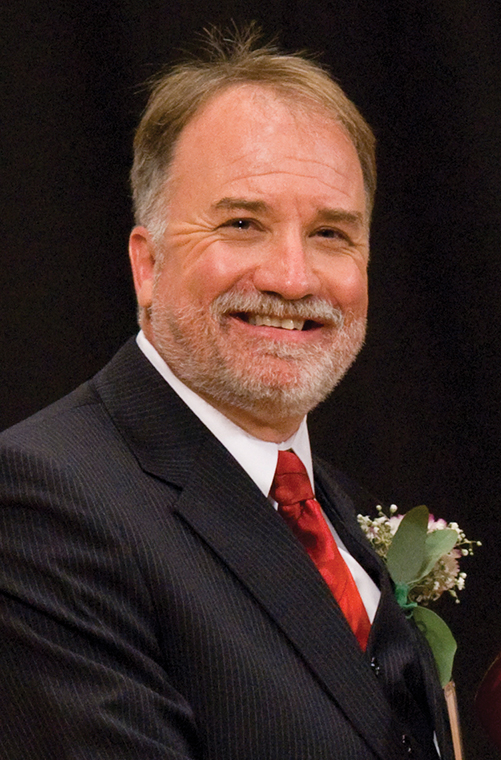 Now in his fifth decade as a neurological disease researcher, Greg Gerhardt is no stranger to the harsh realities of the field. He knows money and research flow to where they can serve the greatest good, however, those with rare conditions can often feel set adrift because it is not financially viable to invest in smaller patient markets. Just because he understands the logic, doesn't mean he has to accept it.
For Gerhardt, his interest in finding cures for those left behind started at an early age. His grandfather passed away from a brain tumor before he was born, and he grew up hearing stories about how its manifestations and treatment changed him.
"Ultimately, that had more effects on my family than the actual death of him," Gerhardt said. "It's become kind of a Sherlock Holmes novel for me of reconstructing over the years exactly what happened."
Looking at the progression of his career, Gerhardt does give the appearance of a detective doggedly doing whatever is necessary to track down a culprit. After graduating from the University with a degree in chemistry in 1979, he went on to earn a Ph.D. from the University of Kansas with further training in psychiatry and pharmacology at the University of Colorado Health Sciences Center in Denver. He has had extensive training in chemistry, neuroscience, pharmacology, neurosurgery and psychiatry. At the University of Kentucky Health Sciences Center he holds the Charles D. Lucas, Jr. Professorship for Parkinson's Disease Research. He is a professor in the departments of neuroscience, neurosurgery, neurology, psychiatry, pharmaceutical sciences and electrical engineering. From 1999-2012, Gerhardt served as director of the Morris K. Udall Parkinson's Disease Research Center of Excellence at the Chandler Medical Center in Lexington, Kentucky – one of 12 centers of that type in the U.S.  – and he is currently director of the Center for Microelectrode Technology and co-director of the Brain Restoration Center.
"It's kind of one of those trains I jumped on and kept jumping on to another track. I got hooked on it, trying to solve these problems," he said.
The next piece of the puzzle Gerhardt drops into place has the potential to be the most important. He recently co-founded Avast Therapeutics, a company designed to advance new treatments for neural disease. By building off of existing research and clinical trials, Gerhardt and his colleagues hope to fill a void in treatment.
"We feel that not every therapeutic has to be the barnstormer," he said. "You have that niche of people to treat, and that's what we're going after." 
Specifically, Gerhardt is drawing on decades of experience with Parkinson's disease in an effort to provide a better quality of life for the 60,000 individuals diagnosed each year. As a founding member of the Michael J. Fox Foundation, Gerhardt knows as well as anyone how much progress has already been made. Not a week goes by where he isn't participating in a surgical procedure to implant a deep brain stimulation electrode in a patient to help control tremors and rigidity. In a perfect world, he hopes to make more progress through less invasive means. Avast is researching nasal therapeutics and inhalers to administer medicine more efficiently. The company also plans to explore biomarkers to identify a disease's progression and tailor a precise treatment for an individual.
"One of the major hurdles in my field of neurodegenerative diseases is that we too often treat these diseases as a single phenotypic disease, when in reality, it's a spectrum of diseases," Gerhardt said. "We've come a long way, but we've got a long way to go."
To make the most of every research dollar, Avast develops therapies or devices that may have gone unexplored by bigger companies. When they have a product ready to go beyond their scope, they seek assistance to get it to scale.
"Really our business model is to develop the technology to the point where we can likely turn it over to a larger firm that has the pipeline and the resources to move in different directions than we can," he said.
When coming up with the name for their company, Gerhardt and his co-founders settled on Avast because it is a nautical term that means stop, commonly associated with "Moby-Dick." The goal is ideally to put an end to – or stop – all neurological disorders, but unlike Captain Ahab, Gerhardt has reasonable expectations in pursuit of his own white whale. Previously, Parkinson's disease might take 10 years off of a patient's life span, but through continued medical vigilance Gerhardt has seen it evolve from a death sentence to something that can be managed with proper treatments. Although he will continue to work toward eradication, that much progress can be its own reward.
"In the business of medicine, the big thing is to help our patients have a better quality of life," he said. "We may not be able to cure something, but we can improve the quality of your life so you can live with it much better and have a fulfilling life."