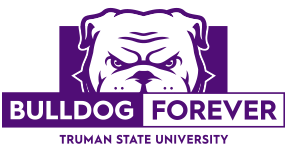 Bulldogs are passionate about their alma mater and excited to spread the word. There are plenty of ways to help recruit and support the next generation of Bulldogs.
// Refer a Student
Nobody knows Truman better than our alumni. Do you have family members, friends or neighbors who might be interested in pursuing the Truman experience? You can help recruit them by filling out our Refer-a-Student Form, and our Admissions Office will contact them at truman.edu/alumni-donors/refer-a-student.
//

Welcome New Bulldogs to the Family
In 2021, Truman alumni began writing postcards to accepted students, welcoming them to campus and encouraging them for the year ahead. This program is a great way of making a difference in the lives of students as they prepare to come to Truman. All you have to do is submit an interest form, and we'll contact you with the names and contact information for accepted students. Not entirely sure what you'd write? No worries! We'll send you samples to help inspire you. Find the interest form at formbuilder.truman.edu/web/form_builder2/form_builder.asp?testid=4249.
// Alumni and Friends Spirit Program
As a tribute to Truman's long history of teacher education, the University has developed the TruSpirit Program, offering educator alumni the opportunity to showcase their Truman spirit. The dedicated work of our educators truly shapes the coming generations. The TruSpirit Program equips alumni educators with Truman gear to display in their classrooms or offices, as well as information about the University. Request your TruSpirit packet online at formbuilder.truman.edu/web/form_builder2/form_builder.asp?testid=1229.
// Celebrate your Bulldog Forever Family
Truman is more than a university. It becomes family. For many alumni, that's not just figuratively true. Many families have a proud Truman tradition that includes multiple generations of Bulldogs or several siblings attending and graduating from Truman. The commitment of these Bulldog Forever Families often spans decades and becomes a lasting and important part of Truman's history. Do you have a Bulldog Forever Family story you'd like to share? We'd love to celebrate your family's long-standing commitment to Truman.
Share your story and family photos online at truman.edu/bulldogforeverfamily.