Brenton Freeman ('05) rarely has a dull moment at work. As an anesthesiologist in Des Moines, Iowa, he balances his workload between two area hospitals and two outpatient surgery centers. He has to be prepared to work with patients ranging in age from one to 100, on anything from a simple outpatient procedure to major trauma. Although some might find it unsettling, the hectic atmosphere is actually something he enjoys.
"It can be challenging at times, but I love every second of my job," Freeman said.
"Whether I am involved with a minor procedure, a major operation or an obstetrical delivery, the most rewarding part of my job is seeing patients after surgery feeling comfortable and appreciative of their care."
The ability to balance a busy schedule is something Freeman honed during his time at Truman. In addition to the hours of coursework he undertook to earn his degree in exercise science, he was also a member of the men's soccer team.
"As an athlete, I knew I was going to be traveling and competing, but I still had exams and other school work to complete, so I had to be organized and focused," Freeman said. "I felt like being a student-athlete made me more successful in both academics and athletics."
In the fall of 2003, Freeman was one of three captains for the soccer team, which had its most successful campaign ever. That team would go undefeated in the regular season, advance to the national quarterfinals and finish the year ranked No. 4 in the country with a record of 20-1.
"That season was filled with so many great memories and stories," he said. "That team knew how to work hard, but we also had a lot of fun together. Those guys are still some of my best friends and we regularly keep in touch despite living around the country."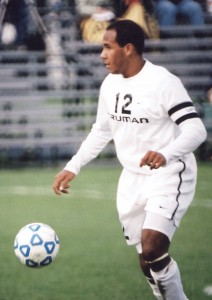 Since his time at Truman, Freeman himself has been scattered around the country. Following graduation he stayed in Kirksville, attending A.T. Still University and earning his osteopathic degree in 2009. His last two years of medical school took him to Phoenix, Ariz., for clinical rotations, followed by an internship in Las Vegas and his anesthesiology residency in Iowa City, Iowa.
Today, Freeman is employed with Associated Anesthesiologist in Des Moines. This September he will be married to Hillary Farmer. In his free time, he enjoys golfing, running and biking—pretty much anything outdoors, although surprisingly not usually playing soccer.
"I still love the game and follow it as much as I can, but most of my playing days are behind me," he said. "I was fortunate enough to not have a major injury throughout my sports career, so I have no interest in hurting myself now."