One of the most Accomplished careers in the history of Bulldog athletics almost never happened.
Sarah Dance ('05) originally decided to go to school in her home state, and attended the University of Nebraska as a freshman. She did not swim that year, and when she made up her mind that she wanted to get back into the sport, she knew Truman was the place for her.
"My brother, who is three years older, went to Truman," Dance said. "Through him, I learned about the great swimming and academics of the school. Truman was a natural fit, so I transferred."
That decision worked out well. During her time at the University, Dance was a part of four swimming team national championships. On an individual level, she was a member of seven national champion freestyle relay teams and earned 28 All-America awards. Academically she excelled too, graduating with a perfect grade-point average while picking up a degree in exercise science with a minor in biology.
Those accomplishments helped Dance secure the NCAA Walter Byers Postgraduate Scholarship. The honor is bestowed on one male and one female student-athlete each year, regardless of sport or division, in recognition of athletic and academic achievement and for the purposes of postgraduate study.
"I didn't think I would make it far in the application process, let alone win," she said. "As students and athletes, what we do—working hard in our sport and academically—is the routine. It's hard to recognize when it might be exemplary. I have my coach, Colleen Murphy, and my parents to thank, because they encouraged me to apply."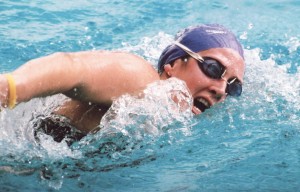 The Walter Byers Scholarship came in handy for Dance, who attended medical school at the University of Nebraska Medical Center after her time at Truman. She finished her final year of anesthesiology residency this June, and while she calls Seattle, Wash., home now, she is currently spending a year in Houston as she completes a fellowship in cardiothoracic anesthesiology at the Texas Heart Institute.
In addition to dedicating the last several years to establishing her medical career, Dance joined the National Guard and spent six months deployed in Iraq.
"I always wanted to do something with the military, but couldn't find the right avenue until a National Guard member spoke at a med school lunch meeting during the first weeks of school," she said. "It seemed like a good fit—the opportunity for military involvement, but to still pick my own specialty and where I live."
Dance worked with the Guard during medical school and her residency, participating in drills during the weekends. She delayed her anesthesia residency so she would have the opportunity deploy to Iraq, where she served as a brigade surgeon for a Nebraska unit and primarily focused on medical administrative work.
"It was a great experience in a leadership role, and I met a lot of great people," she said.
Dance and her fiancé will be married next year, and they hope to make their home in the northwest.