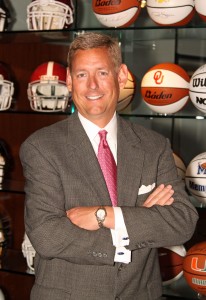 Most entry-level jobs act as a resume-builder for applications elsewhere, but not so for alumnus Greg Brown ('84). During his 30-year span at Learfield Communications, Brown has created a reputation as a skilled worker and trusted leader, which helped him rise to the top of the company.
Learfield Communications began as a regional radio network in Jefferson City, Mo. Since its inception in 1972, the company has grown into a diverse multimedia enterprise and respected pioneer in collegiate sports media and marketing. With two primary operating units, Learfield News and Learfield Sports, the business not only provides news and agriculture broadcast programming to hundreds of radio stations throughout the Midwest, but also manages the multi-media rights for some of the biggest programs in college sports.
Immediately after graduation, Brown began his career with Learfield, managing the account with the Iowa State Cyclone network. Eventually, he worked his way to becoming the head of Learfield Sports. Under his leadership, this primary operating unit grew from a client base of six schools to more than 50 schools, conferences and associations, and today boasts a portfolio of relationships with nearly 100 major university athletic programs.
In 2009, Brown was promoted to his current role of president and CEO of Learfield Communications. Although the company has grown much larger since Brown first joined the team, Learfield maintains close personal relationships with its clients and employees.
"We work hard, treat our people exceedingly well and strive to create an incredible culture internally, which makes for very productive external relationships," Brown said. "The integrity and cultural values of Learfield are effectively transferred between all of these relationships."
Brown's dedication to Learfield has been heralded by many. In 2012, he was named a finalist for the Ernst & Young Entrepreneur Of The Year Award in the Central Midwest. That same year, he was listed as the 23rd most influential executive in college football by SportsBusiness Journal. While Brown appreciates the recognition, gaining personal acclaim has not been a focus in his career.
"Trying to gain accolades and awards for myself–that's not where it's at," Brown said. "I've had 30 years of experience working alongside a lot of talented people who are doing great work. I'm more focused on how we're doing as a company, as individuals, how we are serving our partners and clients, and how we're doing as leaders in our field."
When reflecting on his experience at Truman, Brown noted that the opportunities to serve as the president of Sigma Tau Gamma and as a senator on Student Senate gave him access to professional skills, while his work with the Missouri Student Government Internship Program helped him develop important relationships to jumpstart his career. As a senior, Brown served as an intern in the Missouri Attorney General's Office under John Ashcroft.
"Fundamentally, it's about relationships," Brown said. "The relationship that I formed with John Ashcroft's chief of staff while I served as Mr. Ashcroft's intern led me to contacts which were incredibly helpful in securing my position at Learfield. It is about being intentional with the relationships you have and engaging people in a meaningful way."
With many accomplishments under his belt from his illustrious career at Learfield, Brown advises anyone looking to develop a similar career path to search for something that really tugs at their heart.
"Engaging in something you are passionate about is critical," he said. "If you don't, it's merely a job and a paycheck. Why do that when there is so much more out there for each of us to pursue?"