Like most college students, Jason Reinberg ('00) formed a lot of lasting memories during his time at Truman. Between athletics, academics and a social life, he is hard pressed to determine which one is the most memorable.
It could be when, as a member of the 1998-1999 men's basketball team, he hit two late free throws to secure the conference championship and send the Bulldogs to the NCAA tournament. The jam-packed crowd in Pershing Arena and the celebrations late into the night are a flurry of indescribable feelings for Reinberg. That team would carry their late-season momentum all the way to the final four, the best performance ever by a Truman squad. He still considers his teammates as some of his best friends.
"We have always gotten along and supported each other. I would bet the depth and longevity of our friendships is rarely seen in a college team," Reinberg said.
Maybe something from all of the hours he spent in class or studying in Pickler Memorial Library stands out as his most memorable moment. In addition to his successful athletic career, Reinberg graduated as a valedictorian with a degree in biology. He went on to study at the University of Missouri's School of Medicine and interned for one year at St. John's Mercy in St. Louis before returning to Columbia for his dermatology residency.
Currently, Reinberg works in Washington, Mo., at Mercy Clinic as a dermatologist. Although he treats a variety of rashes, the majority of his patients come in for exams in order to diagnose and treat skin cancer. The visual aspects of this field fascinate Reinberg.
"I like being able to look at a problem on the skin and in most cases immediately know what the issue is and how to treat it," he said.
During his medical school education, Reinberg never felt at a disadvantage when matched against students who graduated from larger or more nationally well-known institutions.
"My Truman education not only prepared me for medical school, but it allowed me to succeed in medical school," Reinberg said. "It provided a great atmosphere for learning and growth academically, as well as socially."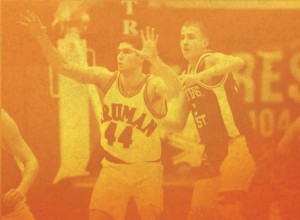 So maybe it is a memory from his social life that stands out among the rest. A member of Alpha Kappa Lambda fraternity, he also spent a considerable amount of time at the Catholic Newman Center. Reinberg even enjoyed living in Missouri Hall his freshman year and still keeps in touch with his roommate and former team member Jason Ramthun ('00). To this day, he plays basketball in a YMCA league with many of the same guys he played with at Truman, as well as some younger graduates.
As great as all those memories are, none of them top the list for Reinberg. Despite his many accomplishments in college, whether they were in the classroom, on the court or in the fraternity house, he will say the one experience that stands out the most was meeting his wife Christina (Hunter) Reinberg ('01). They have three children together and Reinberg enjoys passing on his love of sports to them.