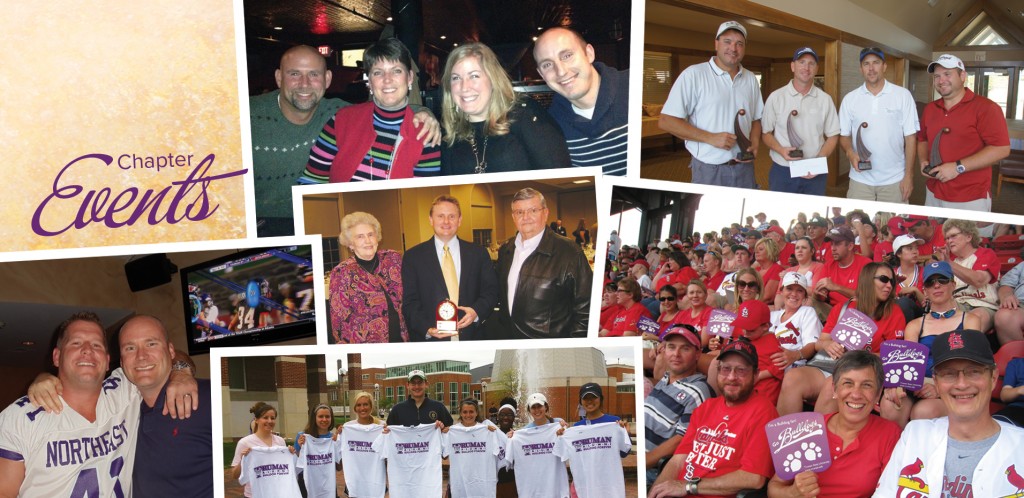 A look at what some of the alumni chapters have been up to and what they have in store. For the latest news on all upcoming events, visit alumni.truman.edu/events.
---
Chicago Alumni Chapter: Lakeview Food Pantry, March 15
Thank you to all of the incredible volunteers that came to help out at the Lakeview Food Pantry. Chicago alumni packaged more than 130 bags of food to be delivered to homebound residents of the Lakeview community. Each resident received two bags of food containing meat, canned goods, milk, grains, fresh vegetables, fresh fruits and even flowers. Some of the bags were specially packaged for residents with health concerns. What a great way to spend a Saturday morning by helping others and reminiscing about the Kirksville community!
Dallas Alumni Chapter: Spring Banquet, April 26
Bulldogs of all eras joined the Dallas Alumni Chapter at the annual spring banquet. After the meal, special guest, football coach Gregg Nesbitt ('80), updated everyone on Bulldog athletics and the University.
Mid-Atlantic Alumni Chapter: National Zoo Tour, June 28
The Mid-Atlantic Alumni Chapter invites you to a day at the zoo. There will be two special tours offered (more details online) to give an exclusive look at one of our nation's treasures. The tour is FREE for chapter members, and $5/person or $15/family for non-members. Tickets are available in the Alumni Store. Not a member? Join the chapter for the special discount.
NEMO Alumni Chapter: Golf Tournament, July 11
Golfers of all levels are invited to join the Northeast Missouri Alumni Chapter for their annual scholarship scramble. Entry fee is $60/person or $240/team and includes lunch, soda, sports drinks and a chance to win some great prizes. To register, visit the online Alumni Store, or contact Denise Smith at dlsmith@truman.edu, (660) 785-4133.
Kansas City Alumni Chapter: Golf Tournament, July 19
The Kansas City Alumni Chapter invites you to participate in this year's tournament at the Shoal Creek Golf Course. Golfers of all levels are encouraged to participate in this fun and exciting day. The day starts at 8 a.m., followed by a lunch buffet with hamburgers, brats, chicken and all of the fixings. Entry fee is $100/person or $400/team and can be paid through the Alumni Store.
Mid-Missouri Alumni Chapter: Cooper's Oak Winery, Higbee, Mo., Aug. 23
The Mid-Missouri Alumni Chapter is headed to Cooper's Oak Winery in Higbee. This small-town winery is also located on the premises of A & K Cooperage, manufacturer of fine American and French Oak barrels. Their wines are stored in a unique wine cellar, which was built in the historic Higbee City Jail. Come enjoy a summer day in the countryside while tasting the wines.
St. Louis Alumni Chapter: Cards vs. Cubs Game & Tailgate, Aug. 30
The St. Louis Alumni Chapter invites you to a night of MLB action as the Cardinals take on the Chicago Cubs at Busch Stadium, Saturday, Aug. 30. There are tickets reserved in the Left Field Pavilion, $25 for chapter members and $30 for non-members. Before the game there will be a free tailgate complete with nacho bar and soda; cash bar will be available. Tickets are on sale now in the Alumni Store. Space is limited.
Arizona Alumni Chapter: Bulldogs Visit the Cooler Climates of Flagstaff, August TBA
Join the Arizona Alumni Chapter for a trip to Flagstaff. Members will meet for brunch before visiting the Lowell Observatory for a guided daytime tour, followed by viewing various wonders of the night sky through the famed Clark Telescope. Truman alumni and friends who want to make this a weekend trip can stay overnight and hike the Oak Creek Canyon trail in the Coconino National Forest with the chapter the following day.
Iowa Alumni Chapter: "Battle of the Bulldogs" Truman vs. Drake Football Game, Sept. 6
The Iowa Alumni Chapter wants you to help them cheer on the Truman football team as they battle the Drake Bulldogs in Des Moines. The chapter will host a barbeque tailgate prior to the game with refreshments and door prizes. Chapter members will get a discount on tailgate and game tickets. Help us pack Drake Stadium in PURPLE!