Time might be one of the few things that moves as fast as Ray Armstead ('84). This summer marks the 30th anniversary of his Olympic gold medal win as a member of the U.S. 1,600-meter relay team.
"I can't believe it was that long ago—I really can't," Armstead said. "It makes you a part of history. Being an Olympian is like winning the lottery, but beyond that, I'm still the same."
Interestingly enough, Armstead nearly missed the chance to become one of the University's most accomplished athletic alumni. The St. Louis native was primarily a basketball player in high school and was a latecomer to the track. After a successful showing at the state meet his senior year, legendary coach Kenneth Gardner helped steer Armstead to Truman thanks in part to the University's reputation for academics and its track program.
Armstead is quick to credit the coaches at Truman for helping him improve on the track.
"Everything I learned was from someone teaching me how to run, how to lift weights and basically to be a good athlete," he said. "I'm a motivated individual and I never wanted to be a failure. I just needed somebody who had the guidance and understanding to make me better."
In addition to Gardner, Armstead acknowledges coaches Ed Schenider, John Cochrane and John Ware as instrumental in helping him achieve his goals. Cochrane worked with Armstead in the summers, and even drove him to Bloomfield, Iowa, regularly so he could have the opportunity to workout on an all-weather track.
"He saw that I was really passionate about being an Olympian. He gave me the workouts. He put me in the weight room," Armstead said.
Along with all of his hard work, an injury in the 1983 season might have been equally responsible for helping Armstead reach Olympic greatness. That injury led him to take a redshirt, pushing back his eligibility for the outdoor track season and allowing him more time to workout with the rest of the team.
"If I would have graduated on time, I probably never would have made the Olympic team because then you are on your own to train," he said. "Because I was redshirted I still had the opportunity to work with Truman."
After posting a qualifying time during a meet at Southeast Missouri State University, Armstead was invited to the Olympic trials, where he found himself competing against Division I athletes. The gravity of making the team and representing the U.S. did not set in until that summer in Los Angeles.
"The whole time I was running, I had to prove myself," Armstead said. "It didn't hit me until the finals. It was very rewarding."
After the Olymp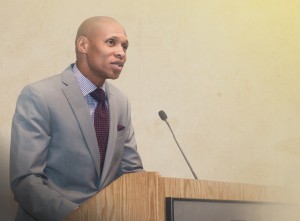 ics, Armstead returned to Truman to finish his degree in art in December. He spent much of the next five years competing professionally around the globe. When his track career was complete, he turned his focus back to his education, picking up a master's degree in business administration from Fontbonne University and a teaching degree from the University of Missouri-St. Louis.
Today, the gold medalist still finds time to run. He usually gets in two or three miles before heading to work as an art teacher at Jana Elementary School in Hazelwood, Mo. Armstead has a son and a daughter and lives in St. Louis with his wife of 17 years, Kimberly.