Thanksgiving came early to the Truman campus with the first celebration of Tag Day. Held in conjunction with National Philanthropy Day, Nov. 15, Tag Day celebrated the impact of private donations on the Truman experience. Items made possible by gifts to the University were marked with tags thanking Truman donors. More than 200 items across campus were tagged, including computer labs, campus gardens and outdoor sculptures, classrooms, locker rooms and more.
Much of the money donated to the University enriches the student experience in important, but less tangible, ways. For example, the University awarded more than $579,000 in Foundation scholarships to 559 students last year alone. Intangible items supported by donors, such as scholarships, student travel stipends for conferences and faculty development programs, were identified with signs across campus.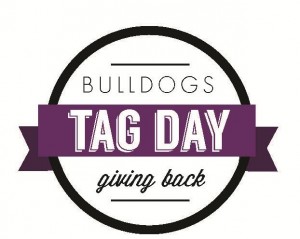 Tag Day was held to increase student awareness of the impact donors have on students' education and to give students the opportunity to say thanks. Student Senate partnered with the Office of Advancement to sponsor a thank you note writing table in the Student Union Building. Students wrote thank you notes to donors for their support of the University and the student experience at Truman. For more information on Tag Day, visit tagday.truman.edu.