This past fall marked the 50th anniversary of a very unique moment in the history of Bulldog football. Alumnus and team member Shane Cavanah gives a first-hand account of the unusual weekend.
In the fall of 1963, I was a senior football player at Northeast Missouri State Teachers College. I was one of 12 returning seniors on the squad. We were expected to, and did, provide the necessary senior leadership that is required and desired in the one-for- all, all-for-one team concept.
We had an unusual scheduling fiasco to start the season that I have never seen or even heard of since that year. Because of some sort of a scheduling mix-up, we had two games on the same weekend at the beginning of the season. The only explanation given to us was that two contracts had mistakenly been signed and neither of the two opponents would budge on allowing us to be released from their particular binding agreement.
We reported to pre-season football workouts at the usual time in mid-August and our preparation procedure was the same as it had been in any other year. Our coach, Maurice "Red" Wade, would schedule three practices a day prior to the beginning of classes that started in September. The workouts would be scheduled for 8 a.m., 2 p.m., and again at 7:30 p.m. He attempted to limit practice time to 90 minutes each session and didn't deviate from that time schedule very often. Sometimes we might go 10 minutes over, but not with any regularity.
I always thought Coach Wade scheduled the practice times this way to prevent a bunch of college-age guys from having idle time in the evenings. It was his way of gently reminding us we would have the same regimented activities the following day and we better be ready for them. We would do this for five consecutive days, Monday through Friday, followed by a scrimmage on Saturday morning. We had the rest of Saturday and Sunday to recover only to repeat the exact schedule the following week.
We had to be convinced, or maybe even brain-washed to a certain degree, by the coaching staff that playing two games in two days was no different from when we would hold offensive and defensive scrimmages two days in a row. Wrong!
Our first game of the '63 season was a home game against Western Illinois University on Friday night, Sept. 20, at Stokes Stadium. Game time was 8 p.m., which was the usual starting time for night games back then. Though scouting reports were not as elaborate as they are now, we had information on Western Illinois from their previous season. We learned their formations and tendencies on both sides of the ball to assist in our game preparation. We approached the opener as we would normally prepare for any upcoming opponent.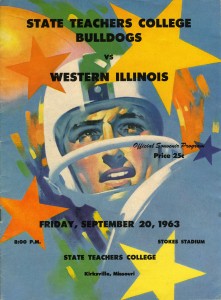 The team looked forward to the first game as any team does—excited and ready for the regular season—as we were tired of hitting each other and were looking forward to seeing different faces on the other side of the ball. We had 20 returning lettermen from the previous season and even though Western Illinois was a quality opponent, we were prepared and proved it with our performance on game night. The final score was 22-0 in favor of the Bulldogs. Win number one was in the books, but now we had less than 24 hours to prepare for our game the next night against the Washburn University Ichabods.
Not only were we scheduled to play a second game in less than 24 hours, we were required to travel to Topeka, Kan., on top of that. Needless to say, we had very little preparation time for Washburn University, and even though we were favored going into the contest, we lost 7-6. Now, I can tell you in all honesty that had we been allowed the normal time to prepare and to recover both physically and mentally, I feel there would have been no doubt about the final outcome.
It is noteworthy to mention that although the University was awarded a 1-0 forfeit later when it was determined that Washburn had used an ineligible player in the game, we never really did consider it a victory. Our final '63 record, without counting the forfeited game as a win, was 7-3.
At the time all this was happening, I didn't think it was that much out of the ordinary. I guess I thought situations such as this were commonplace and this just happened to be our time to experience it. Now, as I look back some years later, I realize it was quite an unusual order of events.
Shane Cavanah coached high school football in Missouri for more than 40 years, compiling a record of 255-119-3 and winning a state championship with Princeton in 1968. He was inducted into the Missouri Coaches Hall of Fame in 2000 and the Missouri Sports Hall of Fame in 2012. Friends and teammates can reconnect with him at scavanah@shighway.com.