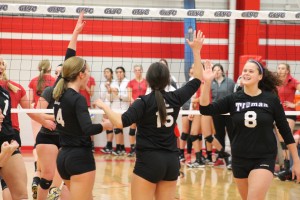 The Truman volleyball team capped its 2013 regular season with its 14th NCAA tournament appearance, having also finished as runners-up in the Great Lakes Valley Conference tournament in late November.
The Bulldogs reached the NCAA tournament during their first season as members of the Midwest region, but fell 3-1 in the first round to region top-seed Grand Valley (Mich.) State in Allendale, Mich., Dec. 5. Prior to that match, the Bulldogs finished the regular season ranked second in the GLVC West division and put three players on the all-GLVC teams. First-teamers Allie Brak, a junior, and Ali Patterson, a sophomore, were joined by honorable mention setter Meghan Zimmerman, a junior, on the GLVC's top listing of performers during the 2013 season. Both Patterson and Brak, along with sophomore Abby Heise, earned all-region accolades by either the AVCA or Daktronics.
Truman put together a 10-match winning streak during the middle of the season and caught fire late by advancing to the GLVC championship match after defeating Southern Indiana and Lewis in the quarterfinals and semifinals. Brak (506 kills), Patterson (327 kills) and Heise (324 kills) were the top offensive weapons for the Bulldogs, with Zimmerman (1,433 assists) and junior Abby Moser (568 digs) adding extra help both offensively and defensively.
The Bulldogs will return six starters for the 2014 season, which is set to begin in September.