This year Truman celebrates a quarter of a century as the No. 1 public school in the Midwest Region. Its actions during the pandemic are proof that success is well earned and the University's future remains bright.
Greek philosopher Heraclitus is credited with the maxim, "the only constant is change," and the living embodiment of that quote has been on display for nearly two years. So many aspects of life have been disrupted during the pandemic it can be easy to forget what things were like before it began. There is also an old adage that the more things change, the more they remain the same. It is fair to say Truman exemplifies both schools of thought. The University is constantly adapting to best meet the needs of the students, and the results have culminated in the same No. 1 ranking for 25 years in a row.
At the onset of the current academic year, Truman celebrated its silver anniversary as the No. 1 public school in the Midwest Region according to U.S. News & World Report. In the 2022 Best Colleges rankings, Truman came in at No. 6 overall among both public and private institutions in the region, an improvement of one spot from the previous year.
That level of sustained success becomes all the more impressive when put into historical context. It started before most of the current students were even born. In fact, some graduates who attended near the beginning of the streak are now the parents of currently enrolled students. The run accounts for more than 15% of the University's total time in existence – and every year, so far, under the name Truman. Five of the school's 17 presidents have served during Truman's reign at the top, and most of them would credit their predecessors for making it possible.
"Decades of hard work by countless individuals led the University to that initial ranking, and continued devotion has allowed us to stay at the top for 25 years," University President Susan L. Thomas said. "Truman has consistently provided an exceptional educational experience for our students. No matter what challenges we have faced, we have adapted to meet their needs and prepare our graduates for success in a complex and rapidly changing world."
Ask anyone familiar with the University what makes it special, and the answer usually includes something along the lines of "great school, great price." While that explanation is a bit of an oversimplification, it is, in essence, why Truman excels in multiple rankings. With roots as a teachers' college and a regional university, Truman is founded on the ideas of empowerment through education and serving the public good. To do that effectively means having resources in place for students, both financially and academically. It means qualified faculty members are able to work closely with students, enhancing their education. It means students graduate and do so without accruing monumental amounts of debt. These are the true markers of a successful university, and they are all things Truman does well.
"Truman provides a remarkable education that prepares our students to thrive both professionally and personally," Thomas said. "Our students graduate at high rates, with low debt, ready to make a profound impact on the world. We have consistently ensured our students realize the full promise of higher education."
A closer look at the U.S. News & World Report rankings shows Truman excels in a number of areas. On supplemental lists, Truman was No. 1 on the Best Value Schools rankings. Among both public and private schools in the Midwest Region, Truman was the best in terms of affordability. It was the only Missouri public school included in the top 50 spots.
Truman was again recognized on the list of Best Undergraduate Teaching, coming in as the No. 1 public university, No. 8 overall, in the Midwest Region. Of the 24 schools listed, Truman was the only Missouri institution, and the highest ranked of the four public schools to be honored.
On the list of Most Innovative Schools in the Midwest Region, which recognizes institutions making improvements toward curriculum, faculty, students, campus life, technology and facilities, Truman was the lone Missouri university among the 17 included schools, and one of only two public institutions.
While the U.S. News & World Report rankings may be the most widely known, Truman also performs well in a number of other publications, most notably Washington Monthly. Truman improved six spots in the most recent rankings by the nonprofit magazine, coming in as the No. 6 master's university in the nation.
The Washington Monthly rankings are unique in that they place an importance on social mobility, research and promoting public service. Along with traditional benchmarks such as graduation rates and costs, schools are rewarded for criteria including the number of first-generation students enrolled and the percentage of students receiving Pell Grants or participating in ROTC. Of the 616 schools included on the list, Truman was the only Missouri public university among the top 275 spots.
"In many ways, the Washington Monthly rankings recognize Truman's successful realization of essential components of our mission," Thomas said. "We have proven time and again that student success is our highest priority and our graduates are endowed with the skills and knowledge to lead and to develop creative solutions for local, state, national and global issues. To be acknowledged as one of the best universities in the nation is quite an accomplishment, and it is gratifying to have our sustained efforts and impact recognized."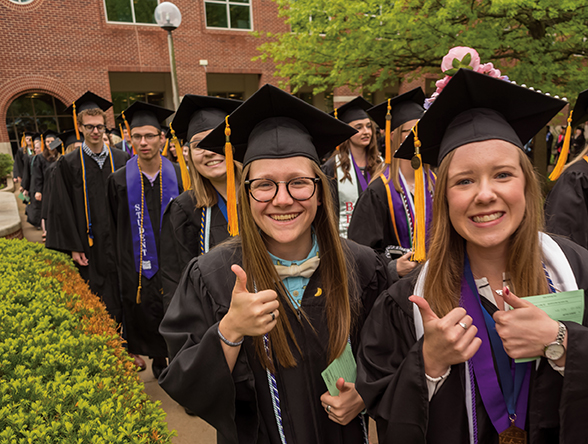 If nothing else, the past two years have given the University a chance to prove it can be adaptive and meet the needs of students. When classes dismissed for spring break in March 2020, no one had any idea it would be the last in-person experience for months.
"I felt very isolated without my friends who had lived right next to me in the dorms," said student Leah Caputo. "My friends were like my family in college, and going back home to complete schoolwork completely online without much social interaction was very difficult."
Running a university in the best of times has complexities of its own, but during a pandemic each day is a minefield of new challenges. Quarantine, isolation, vaccination, contact tracing – in 2019 those terms would best be associated with a dystopian sci-fi movie. In 2022, colleges and universities have plans in place for each. In many cases, policies have been written, torn up and revised several times over depending on whatever new wrinkle has developed. The general public had never heard the term "social distancing" before the pandemic. Now it is ubiquitous, and the reason why some classes only met in-person on certain days, or why a school that normally conducts one commencement ceremony had to plan for seven.
"There has been no blueprint for how to operate under the conditions we have experienced for the last two years," Thomas said. "But we believe strongly in the Ray Davis quotation, 'A challenge only becomes an obstacle when you bow to it,' and we never let the multitude of challenges become obstacles."
The pandemic hit in full force when Truman was on spring break. An original one-week extension of break was soon converted to an online-only format for the remainder of the semester, and students were encouraged to stay at their permanent residence. In the immediate aftermath of pandemic, Truman prorated housing and meal plans for the semester. Since campus was essentially closed, work obligations were waived for scholarship requirements, and students were allowed to retain the entirety of their awards. Academically, the University eased normal requirements, extending the final drop date for classes and allowing students to convert any course to pass/fall grading through mid-May. For the semester, a grade of "pass" was also acceptable to fulfill prerequisites, and inclusion on honors' lists were determined based on recorded grades prior to any conversions. Truman also maintained flexibility in terms of its approach to academic standards appeals, as well as federal and Truman financial aid appeals.
"We understood it might be difficult for students to balance academics with everything else during the pandemic. To make it easier, Truman emphasized flexibility and grace in the context of our routine," said Janet Gooch, executive vice president for academic affairs and provost. "Learning continued uninterrupted, perhaps through different modes of delivery and in different places, but it continued nonetheless. Students, faculty and staff worked collaboratively and cooperatively to deliver the quality education and high-impact experiences that are the hallmark of Truman, in spite of the pandemic."
By June, the decision to return for in-person classes in the fall was announced, but what that might look like was still unknown. Truman consulted public health professionals, the guidance of the CDC and plans from other universities, in addition to input from students, faculty and staff, in devising a return to in-person learning.
"Truman navigated the 2020-21 school year without any COVID-related stoppages because of proper planning and so many people working together." Thomas said. "Our faculty, staff and students made choices that supported a safe community, and together we achieved what many thought would be impossible. As we looked forward to the new school year, we needed to draw on that same sense of community. To ensure another successful school year, we had to continue to work together to make informed individual and collective decisions."
Ultimately, Truman developed a plan to return to campus while mitigating the risks associated with the virus. Classes were offered in a variety of methods including in-person, online asynchronously, online synchronously and hybrid formats. This allowed for those who were ready for in-person classes to return, while at the same time accommodating high-risk individuals and those who did not feel comfortable with face-to-face classes. The schedule was condensed to limit travel to and from campus. Students worked through the normal Labor Day and midterm breaks so they could leave for the semester at Thanksgiving without returning to Kirksville. Truman also developed its own contact tracing program, overseen by Nancy Daley-Moore, associate professor of health science, with the help of a full-time student worker and 20 health science students.
"Having your own contact tracing team allows for a quicker and more seamless response on campus. It makes it easier to contact people and connect people with resources because we know where to go for information," Daley-Moore said. "Having our own contact tracing was beneficial in that it helped us manage our case load, minimize potential spread and keep us on campus."
With a variety of mitigation methods in place, Truman was able to conduct an entire academic year without any COVID-related stoppages. By the end of the spring semester, the number of active cases had decreased significantly. The vaccines were widely available in Kirksville, and the University even conducted some on-campus clinics.
—–
If there is a particular time period that fully demonstrates the University's flexibility throughout the pandemic, it is summer 2021. As it began, things were looking great for the fall semester. Truman ended the year with zero active cases. Vaccines were prevalent. Truman announced classrooms would return to their normal capacities for the fall, and the mask policy was lifted in July for anyone who was fully vaccinated. "Normal" was finally in sight for the fall semester.
Then came the Delta variant. Cases ticked back up. Adair County, like so many other parts of the state and country, was listed as an area of "high transmission," and CDC guidelines were revised to recommend masks in public indoor settings. Although classrooms would still return to pre-pandemic conditions, the University mask policy was reinstated in August.
"When the previous school year ended, conditions surrounding the pandemic showed signs of progress, and all of us hoped for a fall semester that resembled pre-pandemic times," Thomas said. "Unfortunately, the positive trajectory did not continue throughout the summer, and in light of all of the factors we had considered since the beginning of the pandemic, we made the decision to require masks indoors while returning to pre-pandemic activities. Our low case counts throughout the semester validated this decision."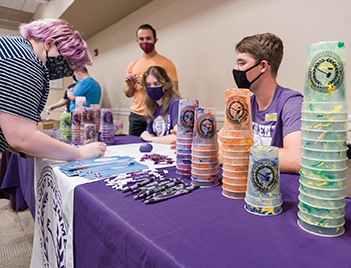 Although the pandemic was still very much a factor during the fall semester, many campus norms did return. Organizations were again able to meet in person and host events. Fans were present at athletic events. Family Day and Homecoming resumed.
"Returning in fall '21 was much easier because life was much more normal," said student Tessa Gisi. "With the exception of wearing masks, campus events were back in full swing, and my campus activities were much more normal."
The University still had COVID-19 cases, but for most of the semester they occurred at a far less frequent rate than the previous year. By the end of finals in December, Truman had experienced roughly 80 cases among students and employees during the fall 2021 semester, compared to more than 300 the previous year.
—–
For nearly two years, the pandemic has affected everyone's life, regardless of their personal opinions about it. Loved ones have been lost, lives and livelihoods disrupted, and social norms altered. At this point, the only positive takeaway is the proof that society can adjust and lessons can be learned.
In education circles, perhaps the most revealing aspect of the pandemic is that in-person instruction remains valuable and is here to stay. For years, prognosticators have foreshadowed an era on the horizon when everything can be learned online and on one's own timetable – brick-and-mortar schools would disappear like brick-and-mortar businesses have for years. The pandemic proved those predictions wrong.
"Our students wanted to be on campus and surrounded by classmates," Gooch said. "They realized there is real value in being part of a learning community, both in and out of the classroom."
At the same time, the pandemic demonstrated technological advances are an asset that perhaps were underutilized for years. Some courses do have value in alternate formats, whether they are online or hybrid. Distance is no longer a roadblock, and additional avenues have opened for students. Study aboard and internships do not have to mean missing out on other classes for a semester, and special circumstances can be remedied with technology rather than a total withdrawal from school.
"Education evolves just like everything else, and we've learned technology can enhance the student experience without replacing it," Gooch said. "Offering multiple options for course delivery can empower our students, allowing them agency in how and where to focus their efforts."
For Truman specifically, the last two years have been a case study in the value of the liberal arts. Intangible qualities, like critical thinking and problem-solving skills, have been put to the test, and time and again they have proven their worth. Whatever challenges arrived, they were evaluated, and solutions – sometimes imperfect, but always thoughtful – were developed to meet the moment.
—–
All good things must come to an end. At some point, Truman will lose its No. 1 ranking, likely either because the methodology changes or circumstances beyond University control will lead to skewed statistics in a particular category. When that day comes, Truman will still be fine.
"We are not great because we are on these lists, we are on these lists because we do great things for our students," Thomas said. "Any recognition we get is a result of that, not the motivation for it. We will continue to be purposeful and innovative and stay true to our vision of producing graduates who, as our mission states, 'will be citizen-leaders committed to service; globally competitive; able to thrive in the complexities of an advanced, technical and multicultural world; and inspired to live healthy and meaningful lives.' As long as we do that, we will be No. 1 in every way that counts, regardless of where we may fall on any ranking list."
---
Expanded Services Part of a Strong Focus on Mental Health
For several years, Truman has been taking steps to expand its resources to better meet the growing need for mental health services.
One of the most notable adjustments has been partnering with a third-party provider to oversee the Student Health Center and University Counseling Services. Since February 2021, Complete Family Medicine has overseen daily operations of both entities. A subsidiary of Hannibal Regional Healthcare System, this nonprofit agency has the capacity to provide additional resources to students, including expanded hours, increased access to a physician and access to off-site providers when needed.
The Student Health Center and University Counseling Services remain on campus, housed in the McKinney Center. Services are accessible year around, with additional hours of operation during the school year. Available staff during the academic year includes four full-time on-campus counselors, two part-time on-campus counselors and three virtual counselors.
"The goal is to be a premiere student health center and student counseling center that other universities look to because we've implemented models and processes of care that are making our students as healthy as possible so they can be successful in and out of the classroom," said Dr. Jordan Palmer, a Truman alumnus and the medical director overseeing both clinics.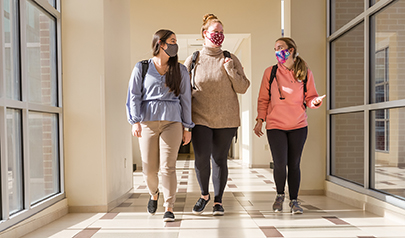 The past year also saw Truman begin a partnership with emotional well-being provider LifeWorks, which offers access to resources specifically for students in higher education. Through its My Student Support Program (My SSP), students can seek resources in a variety of platforms, including live online chats and video counseling.
The My SSP app offers free and confidential short-term, solution-focused counseling delivered by degree-qualified clinicians on a 24/7 basis. In addition, students can access self-directed resources, including videos and articles on topics such as: scholarly stress; combating homesickness or feelings of isolation; relationship tension or challenges with family or friends; creating balance between personal and academic priorities; and thriving as a student. If a student is in need of additional support, My SSP can help refer them to the proper resource.
Students who make a connection with a My SSP counselor may maintain that relationship, unless the counselor feels a referral is more beneficial. Students can also request to speak with a counselor in a variety of languages, including 24-hour access to counselors who speak English, French, Spanish, Cantonese or Mandarin. Other languages are available upon request.
"My SSP is a new and additional resource for students who may not have previously sought out mental health supports," said Janna Stoskopf, dean of student life. "The app is a quick, convenient and more private way for students to reach out for help. Students most frequently reach out to a counselor for the first time through the chat function. That tells us that we are creating a way for students who may have needed help, but were reluctant to connect with UCS, to get assistance."
Other measures the University implemented include the creation of the Truman Wellness website, available at wellness.truman.edu. The site serves as a resource for communicating a campus-wide commitment to wellness and a culture of caring.
Faculty members have played key roles in the strategic planning of the University's wellness approach. Many have participated in workshops and other developmental opportunities for mental health and well-being. A faculty fellows position was created for mental health, as well as a student award for faculty members who are champions of mental health.
Truman also adjusted policies around dropping and adding courses to help alleviate student stress. The leave of absence policy was altered to provide students with the opportunity to be absent from the University for up to two full semesters while retaining their status as students, minimizing the impact on any Truman-funded financial assistance the student may receive.
The University recently completed a four-year JED Campus program to help prioritize student mental health and well-being through strategic interventions. Due to its participation in the program, Truman now has access to its Learning Community, the JED Campus Playbook, JED Campus and Campus Professionals webinars, newsletters, JED connection calls, the online forum and listserv, and other JED communications and opportunities.
---
New Recruitment Strategies to Aide Enrollment 
Simply put, this is not a golden age for college admissions, especially in the Midwest. According to the Coordinating Board for Higher Education, college enrollment for Missouri high school graduates declined 18.5% from 2010 to 2020. Results of that decrease can be seen throughout the state. From 2015-2020 every Missouri public four-year institution saw at least one year of negative enrollment growth, with most experiencing the trend for multiple years. In total, 10 of the 13 state universities saw an overall decrease in enrollment during that time, and projections for the state and the region show signs of drastic decreases for the next 15 years. While Truman has fared better than some other state schools, it has not been immune to enrollment issues.
"Enrollment declines were expected based on demographics and the number of high school graduates," said Tyana Lange, vice president of enrollment management and marketing. "The reality is, we have to do a better job of selling the excellence and value of a Truman degree."
In addition to bleak high school data, another factor specific to Truman could have to do with how college students make their choice. A 2016 study commissioned by the American Council on Education revealed a majority of students attending four-year colleges and universities enroll within 50 miles of their home. It also found the farther away a college is, the less likely the student is to attend. Historical enrollment data from Truman would support the theory that current students have a different view of going off to college than those in previous eras. From 1986-90, out-of-state students accounted for an average of 30% of the incoming class. Between 2016-20, that number dipped to 15.2%.
"Fewer students are going to college, and the ones that do are staying closer to home than they did in previous years," Lange said. "For years we have relied on cost to attract students. We have to tell our story and make sure prospective students, parents and families understand how amazing the Truman experience is and how successful our alumni are so they can picture themselves as part of the Bulldog family."
In recent years, the Office of Admission has enhanced its enrollment strategies. First among them is to communicate with prospective students earlier in the recruitment cycle. At the same time, Truman has moved up the scholarship process so students get their best offer first, rather than an initial merit scholarship followed by a competitive-based offer. This also allows students and their families to have all the information they need to compare Truman against offers from competing schools. Disruptions to standardized tests also resulted in the University piloting a test-flexible option for admission, which now puts Truman on par with hundreds of colleges and universities that already implemented the practice.
The new strategies are still in the early phases, but they have already shown promise, even as the pandemic has hindered the University's ability to participate at in-person college fairs and high school visits. Although the number of first-time freshmen was down for the current school year, Truman saw gains in other areas. New student enrollment – first-time freshmen combined with new graduate, transfer and international students – was up compared to the start of the previous fall semester.
"Recruiting for all colleges and universities has changed," Lange said. "We've worked to ensure we are connecting with students earlier in the cycle, providing the type of information they are interested in hearing and delivering it when they need it. We are doing whatever we can to make the process easier and more transparent"
Part of the reason for the increase in graduate students is the addition of new programs. Since 2020 Truman has added five new graduate programs, including master's degrees in: gifted education; mental health counseling; school counseling; and data science and analytical storytelling; as well as a graduate certificate in data science. To prepare for long-term growth with multiple segments of potential students, the Office of Admission has added designated counselors for graduate and transfer students. In a collaborative endeavor, the admission team now works closely with the Center for International Students to strategically recruit that pool of potential applicants.
Truman has taken additional steps to support long-term growth. The Division of Enrollment Management was expanded to become Enrollment Management and Marketing, with proactive recruitment measures conducted in collaboration with the Office of Admission. The University also added a coordinator of marketing position, as well as a director of retention to support students after they are enrolled.
Another positive sign for future recruitment efforts came in the form of summer academy enrollment (see page 5). For 2021, summer programs saw participation levels at or exceeding pre-pandemic numbers. The Joseph Baldwin Academy in particular is an effective feeder program for eventual Truman students, and the increase in enrollment shows promise for future entering classes.
Throughout Missouri's decade-long downturn in high school graduates who enroll in college, the University has maintained its identity. The retention rate has increased after a downturn that lasted for years, and Truman still has the highest graduation rate among the state's four-year institutions.   
Alumni and friends can play an important role in recruitment by referring a prospective student. Referrals can be made at truman.edu/alumni-donors/refer-a-student. Visits to campus can be arranged Monday through Friday. The University hosts open Saturday group visits, as well as Saturday Showcase Events, during the academic year. More information about visits can be found at truman.edu/admission-cost/visit-truman or by calling (660) 785-4114. Applications can be found at truman.edu/admission-cost/apply-to-truman.