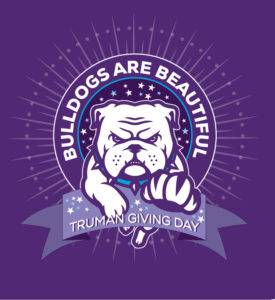 The Truman community came together in support of a variety of funds during the successful 2021 Truman Giving Day Campaign. The 24-hour-long giving effort in April produced gifts from 466 alumni, parents, friends, faculty and staff resulting in more than $150,000 in support of Truman students.
Bulldogs are Beautiful Giving Day Leads
to Big Impact
While alumni supported a variety of Foundation funds, the effort featured five areas of specific focus:
»  Athletic Challenge
A $50,000 challenge gift from Mark ('97) and Jill ('98) (Matthys) Schell resulted in more than $100,000 of impact. Half of their gift was directed to match gifts to football, and the remaining $25,000 was available to match gifts for all other sports.
»  Brent Buckner and Diane Janick-Buckner Student Research Excellence Fund
Leadership gifts from Brian Witherbee ('94), Dr. Hemal Patel ('98), Dr. Jennifer Johnson-Patel ('98) and Dr. Bhavini "Tina" Carns ('01) served as a catalyst for nearly $30,000 being raised to endow a fund to honor the legacy of Brent and Diane as outstanding faculty and student mentors. The excellence fund will support student research in biology.
»  Piano Lab
Donors stepped up to help with the costs needed to renovate the Piano Lab in the Fine Arts Center in the Ophelia Parrish Building. Seven of the pianos in the renovated lab now bear donor plaques that were secured through naming-level support.
»  Business and Accounting Advisory Boards Challenge
Matching funds were provided by members of both of the Business Advisory Board and Accounting Advisory Board members. The challenge was successful in encouraging School of Business alumni to participate and had a specific focus on attracting first-time gifts from young alumni.
»  Truman Food Pantry
Through a $5,000 matching gift challenge from Colleen Ritchie ('84) young alumni and students were encouraged to provide support for Truman students who are facing food insecurity.
Bulldogs truly are beautiful, and even more so when wearing Truman apparel. To that end, and to sweeten the pot, all donors who contributed $60 or more received a pair of socks sporting the Truman logo!
Plans are being set for the next Bulldog Giving Day,
so mark your calendar for April 21, 2022
(which just happens to be national Bulldogs are Beautiful day).