In his role as lead strength and conditioning coach, Ambrose Serrano helps American athletes reach their full potential.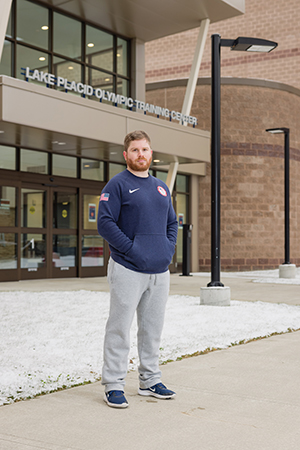 When the Winter Olympics kick off in Beijing, Ambrose Serrano can be forgiven if he has some sleepless nights. As lead strength and conditioning coach for the U.S. Olympic and Paralympic Committee (USOPC), he oversees training plans for as many as 40 athletes, primarily in the winter sports of biathlon, bobsled, luge and skeleton. Working with individuals day in, day out for years to help them reach their goals can be particularly nerve-racking when the only thing left to do is compete.
"Coaching is a personal relationship with athletes, and we are proud, nervous, excited, anxious and any other normal emotion that comes with competition," he said. "The biggest reward as a coach is when an athlete is able to achieve the goals they set for themselves."
After working with athletes for more than a decade from his post at the Lake Placid Olympic and Paralympic Training Center in New York, Serrano has helped countless athletes in pursuit of their dreams.
"This is the most enjoyable part of my role as a strength and conditioning coach," he said. "The on-the-floor coaching and personal communication I have with the athletes is an irreplaceable aspect of my role with the USOPC."
To do his job effectively, Serrano not only trains with athletes five to six days per week, he also stays current on the most up-to-date research in the field and collaborates with other coaches and colleagues to promote sport-science initiatives that support athlete wellness and performance. He also takes into account they are individuals with their own lives and needs.
"Programming training plans and coaching athletes requires consistent and frequent communication between coach and athlete to determine what the best approach for each athlete may be as an individual," Serrano said. "All areas of an athlete's life need to be considered when optimizing their training. This may include the specifics of what they are doing in the weight room or on the track, but also what their work schedule looks like, their commute to/from training, or any other activity that would not normally be under the umbrella of training."
Another aspect of the job is travel, particularly to World Cups, the World Championships and the Olympic Games. Serrano's role shifts a little by the time the team arrives to compete.
"Once the athletes are preparing to compete, it is just that: preparing to compete. There is no more development," he said. "The Olympics is an all-hands-on-deck mentality. Any capacity in which I can assist athletes, coaches or Team USA, I will be available to assist."
It was at this time during the 2018 Olympics in South Korea when Serrano had one of the most memorable moments of his career. After helping an athlete warm up for the men's luge event, he went on to take silver, the first medal in the event in the history of USA Luge.
"It was a big one. I sprinted down the mountain to get to the bottom to be a part of all this excitement," he said. "It was quite the experience."
Excitement over the luge is something Serrano never expected while growing up in Carlinville, Illinois. He knew he wanted to work with top athletes, and after completing his degree in exercise physiology from Truman in 2009, he went on to earn a master's degree in sport physiology and performance from East Tennessee State University. He then worked his way up from a USOPC intern into his current position as lead strength and conditioning coach.
"I grew up in the Midwest, so the winter sports were less popular since I was surrounded by corn fields, not mountains," Serrano said. "It was not until I started working with the USOPC that I had a true understanding and appreciation of the Olympic movement."
Serrano was surprised to learn fans in Europe tailgate at events like the biathlon just like Americans would for a football game. It is one of the many things he has come to respect about the Winter Games and its athletes.
"I never really realized these were sports that had a full competitive season each year, even in a non-Olympic year," he said. "Olympic sports pose a unique atmosphere, different than other sports. The athletes do not just represent a team, but Team USA, and having the opportunity to provide support to athletes while striving to be the best in the world is a special one."