In addition to preparing physical education teachers to enter the profession, Julene Ensign sets them up for a long and successful career.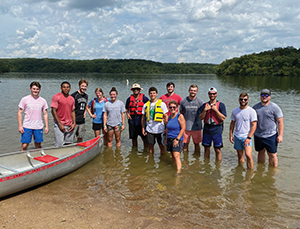 It's rare to find Julene Ensign in a classroom, but that doesn't mean she's resting on her laurels. As an assistant professor of exercise science, Ensign primarily teaches courses related to Truman's MAE physical education, meaning she spends a lot of time in the field helping her students become professional educators. Her "classroom" might be a gym, a track, or on some occasions, a lake.
"Most of my classes are experiential in nature, so I'm not in a traditional classroom setting very often," she said.
Ensign's job may be to train tomorrow's teachers, but she is also part myth buster. She wants people to know being a physical educator involves more than rolling out balls and spending the day in sweatpants. Just like their colleagues, physical educators have to create lesson plans, maximize time on task, provide quality feedback and meet the needs of diverse learners, all while students are in constant motion around a large space.
"The amount of planning before the lesson, attention to detail during the lesson and reflection required after the lesson puts physical educators in an elite category in terms of pedagogical practices," Ensign said. "The reality is that most physical educators are drawn to the field because they want a career that allows them to continue to be physically active. I love the value that it adds to my quality of life and am passionate about helping others discover their own pathway to being physically active for a lifetime."
Any novice teacher, regardless of their area of concentration, could learn a thing or two from Ensign's research. Although specific to physical educators, she focuses on the socialization, efficacy and teaching performance of beginning instructors.
"If a beginning teacher is struggling to fit in with coworkers or manage groups of students, their perception of their ability to teach effectively will decrease," Ensign said. "In general, we all tend to stay engaged in activities where we have a high degree of efficacy or confidence in our abilities to make a difference. The bottom line is it's really important these beginning teachers get started with all of the right types of support in place."
When it comes to advising new teachers, Ensign has a wealth of life experience from which to draw. After completing her bachelor's and master's degrees from the University of Illinois, she originally worked as a personal trainer and in a sport management setting. She took a job as an adjunct faculty member when her children were younger in order to have a more regular schedule, and her time in the classroom sparked something. Ensign went back to school for her teaching licensure and a Ph.D. from her alma mater.
"It took three really tough years of working full-time, taking classes full-time, commuting three hours to take classes and juggling being a wife and mother to successfully defend my dissertation and earn my doctorate," she said.
After studying at a large university and teaching at a smaller one, Truman is "just right" and the lifetime Illinois native feels at home since coming to the University in 2019.
"We're in the business of creating a 'family tree' of physical educators who are willing to stand in the gap for students. It's sort of a grassroots approach, but it's what makes the hard work of teaching worth the effort," Ensign said. "Knowing that my candidates and graduates are moving the needle in a positive way for their students is important to me."